Homemade "Instant" Pancake Mix and Blueberry Pancakes
After the maple festivities last Saturday, Hubby really wanted pancakes on Sunday morning. He was sad to find out that we didn't have any pancake mix in the house and asked me to grab some at the store. I scoffed at him and said I'd make them from scratch.

We rarely eat processed foods at home. Except for pancakes. We don't eat them very often, but usually there is a container with the mix that you just add water to. I'm sure the ingredient list on that container is pretty scarey and contains tons of ingredients that no one knows how to pronouce. So I decided to take this opportunity to prevent those super-long-there's-no-way-I-can-read-this-ingredient-so-I-probably-shouldn't-be-eating-it ingredients from getting into our bodies.

Aside from my baking obsession, we eat pretty healthy in the Beantown Baker household. We both eat our 5 fruits/veggies a day thanks to Hubby packing lunches for us every morning. He includes something for breakfast, lunch, and snacks. A lot of produce and the rest is homemade. For dinner we always cook unless we're eating out.

So I set out to find a pancake recipe to make from scratch. I did grab some beautiful blueberries while I was at the store that morning to throw into our pancakes (I used the rest to make our favorite banana-blueberry muffins). I was going to start with Google, but instead headed towards my shelf of cookbooks. I do have quite a few and I'm trying to use them more often. I opened my trusty Alton Brown cookbook and found a perfect solution. A recipe for a pancake mix! So I would be able to have pancakes that morning and have a mix to use in the future.

The mix is very simple to throw together. I'm storing mine in the freezer because I doubt we'll use it up in three months. I found the pancake batter to be a bit thick, so I added more buttermilk to thin them out. This recipe yields some really tasty pancakes. The addition of those plump blueberries and real maple syrup definitely took these over the top!

One Year Ago: Cinnamon Biscuits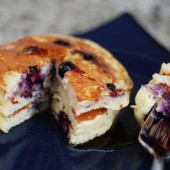 Yield: 3 batches of 12 pancakes
Ingredients:
For the Instant Pancake Mix
6 cups flour
1 1/2 tsp baking soda
3 tsp baking powder
1 Tbsp kosher salt
2 Tbsp sugar
For the Pancakes
2 eggs, separated
2 cups buttermilk
4 Tbsp melted butter
2 cups Instant Pancake Mix, recipe above
1 stick butter, for greasing the pan
2 cups fresh blueberries, optional
Directions:
Heat an electric griddle or frying pan to 350 degrees F.
Whisk together the egg whites and the buttermilk in a small bowl. In another bowl, whisk the egg yolks with the melted butter.
Combine the buttermilk mixture with the egg yolk mixture in a large mixing bowl and whisk together until thoroughly combined. Pour the liquid ingredients on top of the pancake mix. Using a whisk, mix the batter just enough to bring it together. Don't try to work all the lumps out.
Lightly butter the griddle. Wipe off thoroughly with a paper towel so that no butter is visible.
For the Instant Pancake Mix
Combine all of the ingredients in a lidded container. Shake to mix.
Use the mix within 3 months.
Pancakes
Gently ladle the pancake batter onto the griddle and sprinkle on fruit if desired. When bubbles begin to set around the edges of the pancake and the griddle-side of the cake is golden, gently flip the pancakes. Continue to cook 2 to 3 minutes or until the pancake is set.
Serve immediately or remove to a towel-lined baking sheet and cover with a towel.
11 Responses to "Massaged Kale Salad"
Leave a Comment