Cranberry Swirl Cookies
Cookies are so great for the holidays. They are easy to make, portable, and everyone loves them! These Cranberry Swirl Cookies also have a great festive ruby red color! I baked these cookies up for a cookie swap at work. The cinnamon in the cookie dough provides a subtle cinnamon scent as you bite into the cinnamon cranberry sauce filled cookie. One of my coworkers asked if I had put crack in them because he just kept going back for more.
I doubled the recipe, baked half, and left the other two rolls of cookie dough in the freezer so I could bake them up on short notice some time this holiday season.
A note about this recipe. Don't roll the dough too thin. Since the recipe didn't specify how large of a rectangle to roll the dough into, my first roll was very thin. You can see one of those cookies on the right. Not very pretty. So you really only want to roll the dough out into a little bigger than a piece of paper so the dough isn't too thin like the cookie on the left.
One Year Ago: Red Velvet Cheesecake Cake
Two Years Ago: Chocolate Mousse and Biscuits and Sausage Gravy
Three Years Ago: Chocolate Chip Snowballs and Carrot Cake Cupcakes with Cream Cheese Frosting
Four Years Ago: Scallop Mango Salad and Brie Bites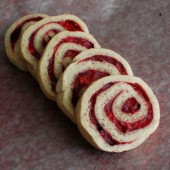 Cranberry Swirl Cookies
Ingredients:
For the Dough
1/2 cup butter, softened
3/4 cup sugar
1 egg
1 tsp vanilla
2 cups flour
1/4 tsp salt
1 1/2 tsp cinnamon
For the Filling
2 cups cranberries
1/4 cups sugar
1/2 cup water, divided
1 1/2 Tbsp cornstarch
1/2 tsp cinnamon
Directions:
For the Dough
In a large bowl, cream butter with sugar. Add egg and vanilla. Scrape bowl as needed, especially prior to each new addition of ingredients. Add in dry ingredients. Mix until fully encorporated into the dough.
Divide dough in half. Form each section into a ball, wrap in plastic. Chill for at least 1 hour.
For the Filling
Over medium high heat in a medium sauce pan, add cranberries, sugar and 1/4 cup of water. Heat until berries pop, stir frequently. Continue to cook, reducing temperature to medium heat. In a small bowl, mix cornstarch and remaining 1/4 cup of water. Add water mix to the cranberries. Heat and stir until thickened. It will thicken quickly. Add 1/2 tsp of cinnamon to mixture, stir until encorporated throughout.
Remove from heat. Transfer cranberry mixture to a medium bowl. Let cool for 15-20 minutes at room temperature before covering with plastic and returning to the fridge to cool completely.
When both your dough and filling are ready to be worked with. Remove one ball of dough from the fridge. On a lightly floured workspace, roll out dough into a 10x12" rectangle.
Spread half of the cranberry filling over the dough, up to 1/2″ from the edge.
Carefully begin rolling dough from one of the shorter ends. Pinch and seal off the ends. Wrap tightly in plastic wrap, followed by foil. Repeat process with second ball of dough. Store in the freezer for at least one day or up to several months. If you are storing for longer than one or two days, toss dough log into a plastic bag marked with any important information. Things to write would be: type or name of dough, temperature to cook at, length of time to cook and potentially the date you stored the dough.
After at least one day, preheat oven to 375 degrees. Slice 1/3″ thick or so. Remember, these will not expand much so don't go too thick or too thin.
Place 1″ apart on a lined baking sheet. Use a silpat or parchment paper. This is an absolute necessary step with these cookies due to their filling.
Bake for 12-15 minutes or until the edges just slightly start to turn a golden color. Cool on tray for 5 minutes before carefully transfering to a cookie sheet to cool completely.
Store in an airtight container for several days.
Leave a Comment