Cranberry White Chocolate Cupcakes
Carrie of  Carrie's Sweet Life had a great idea earlier this month. I "know" Carrie from an online community I participate in that's all about cooking and baking. She wanted to form a group of people who bake together. We named ourselves "What's Baking?" as a play on the online community we're a part of.
For the first month, Carrie chose the theme: fall cupcakes. I struggled with this theme quite a bit. I didn't want to go with pumpkin. I thought it would be too predictable and I wanted to try something more creative. After bringing home some fresh cranberries from the cranberry festival, I knew I wanted to use crans. I started thinking about what flavors go well with cranberries and since I've already made a maple walnut cranberry cupcake, I decided to go with white chocolate.
I decided to sub half of the vanilla with some Fiori Di Sicilia that I grabbed at King Arthur Flour. I haven't had a chance to use it and according to KAF: You know that wonderful marriage of flavors you taste when you combine vanilla ice cream and orange sherbet in the same bowl? That's what Fiori di Sicilia tastes like. We find that using it in just about anything mild and sweet–anything where competing flavors, like chocolate, don't interfere–adds a wonderfully mysterious taste. Your friends will be guessing just what you've done to your sugar cookies or yellow cake or sweet bread to make them taste SO good! It really does smell like a creamsicle and I thought it would complement the white chocolate and cranberries well (especially since the cranberry mousse has orange zest in it!).
I filled the cupcakes with some homemade cranberry sauce to add another punch of flavor and color. These cupcakes are amazing and would be a great dessert for Thanksgiving or Christmas! I'm going to be mean and post the recipes for the cranberry sauce and the cranberry mousse in the next couple of days. Sorry to do that to you, but they'll be up soon!
One Year Ago: Pumpkin Cranberry Muffins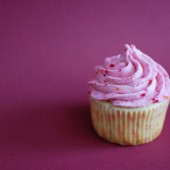 Ingredients:
1 1/2 cups flour
1 tsp baking powder
1/2 tsp salt
1/3 cup butter, softened
3/4 cup sugar
2 eggs
4-oz white chocolate, chopped
1 tsp vanilla
1 cup plus 1 tbsp milk
Directions:
Preheat oven to 325F. Line muffin pans with cupcake liners.
In a medium bowl, whisk together flour, baking powder and salt.
In a small, microwave-safe bowl, melt the chopped white chocolate by heating it in 30 second intervals in the microwave. Stir well with a fork between each interval and cook only until the chocolate is smooth when stirred.
Cream together butter and sugar until light and fluffy. Beat in eggs one at a time, followed by melted white chocolate and vanilla. Alternate adding in some of the milk and some of the flour mixture, starting and ending with the flour mixture. Mix until just incorporated and no streaks of flour remain.
Divide batter evenly into muffin cups.
Bake for 20-23 minutes until a tester comes out clean and the tops spring back when lightly pressed with a fingertip. Cool on a wire rack.
To Assemble the Cupcakes:
Once cupcakes are cooled completely, use the cone method to remove part of the cupcake. Fill with cranberry sauce. Pipe cranberry mousse on top of cupcakes.
Store cupcakes in the refrigerator.

Don't forget about my Power of Pink Challenge – make something PINK by the end of the month to raise Breast Cancer Awareness!
9 Responses to "I'll have S'more"
Leave a Comment