Roasted Beet and Goat Cheese Risotto
Who else out there loves beets? I think they're awesome and I'm SOOO glad I was introduced to them a couple years ago. One of the great things about beets is the vibrant pink tint they give to anything they touch.
I think beets pair so well with goat cheese. So I replaced the Parmesan in the recipe with goat cheese. Risotto is one of those things that I forget to make at home and then once I make it once, I want to make it every weekend. It does take some time and a lot of stirring, but the end result is worth it.
I used a variety of beets that we got in our CSA box (I'm going to miss our weekly veggies when the CSA wraps up for the season here in a few weeks). Only some of these beets went into the risotto. The others were used in salads and just eaten with a splash of basalmic and a spoonful of goat cheese.
If you enjoy beets and goat cheese, you'll definitely enjoy this roasted beet and goat cheese risotto. And, there's really nothing better than eating pink food!
One Year Ago: Homemade Marshmallows, Smores Cookies, and Smores Brownies
Don't forget about my Power of Pink Challenge – make something PINK by the end of the month to raise Breast Cancer Awareness!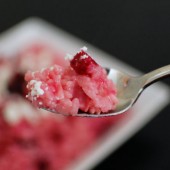 Roasted Beet and Goat Cheese Risotto
Ingredients:
3 medium beets, trimmed
olive oil
salt and pepper to taste
3 1/2 cups reduced-sodium chicken broth
3 cups water
1 small onion, finely chopped
2 Tbsp olive oil
2 cups arborio rice
1/2 cup dry white wine
1 tsp salt
1/2 tsp freshly ground pepper
1/2 cup crumbled goat cheese
Directions:
Put oven rack in middle position and preheat oven to 425°F.
Place beets on a piece of foil. Drizzle with olive oil and season with salt and pepper. Bake for 1 hour until tender. Allow to cool in foil for 30 minutes.
When beets are cool enough to handle, peel them, discarding stems and root ends, then cut into 1/2-inch cubes.
While beets are cooling, bring broth and water to a bare simmer in a 2- to 3-quart saucepan. Keep at a bare simmer, covered.
Cook onion in oil in a wide 4- to 6-quart heavy pot over moderate heat, stirring occasionally, until softened, about 3 minutes. Add rice and cook, stirring constantly, 1 minute.
Add wine and simmer briskly, stirring constantly, until absorbed, about 1 minute. Stir in 1/2 cup broth and simmer briskly, stirring constantly, until broth is absorbed. Continue simmering and adding broth, about 1/2 cup at a time, stirring constantly and letting each addition be absorbed before adding the next, until rice is just tender and creamy-looking, 18 to 22 minutes. (Reserve leftover broth.)
Stir in beets, salt, and pepper and cook, stirring, until heated through. Thin as necessary with some of leftover broth, then stir in cheese and remove from heat.
3 Responses to "Goat cheese potato salad"
Leave a Comment