Balsamic Roasted Vegetables
Another month has passed and it's time for another round of The Secret Recipe Club. I'm taking a break from posting pink food for just one day to bring you this awesome fall vegetable dish. For those of you who don't know about Secret Recipe Club, you sign up to participate, then are assigned another blog. Then, everyone posts on the same day revealing the blog they were assigned.
This month, my blog assignment was A Vegan Obsession. I have to admit that I was a bit worried that I wouldn't be able to find anything I would want to make… But sure enough, as I started reading through the recipes, I was starring quite a few of them.
I chose this Balsamic Roasted Vegetable dish because I had quite a few veggies laying around from our last CSA box. I love how customizable this recipe could be. You can literally use almost any vegetables that you have on hand. All of the veggies that I used were from our CSA.
Hubby and I devoured these vegetables. We absolutely loved them and have made them a couple times this month already.
One Year Ago: Homemade Graham Crackers and Smores Cupcakes
Three Years Ago: M&M Cookies
Four Years Ago: White Chocolate and Blueberry Cupcakes and Sweet Potato Home Fries
Don't forget about my Power of Pink Challenge – make something PINK by the end of the month to raise Breast Cancer Awareness!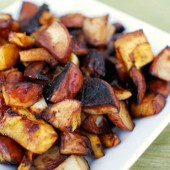 Balsamic Roasted Vegetables
Ingredients:
1 butternut squash
1 acorn squash
1/2 lb potatoes
3 large beets
2 large onions
6 cloves of garlic
1/2 cup balsamic vinegar
salt & pepper, to taste
Directions:
Line a baking sheet with foil. Preheat oven to 425.
Chop all of the vegetables into similar sized chunks, leave the garlic cloves whole.
Place vegetables and garlic on baking sheet. Pour balsamic over vegetables and season with salt and pepper. Toss vegetables to evenly coat everything.
Bake for 40-50 minutes until the vegetables look slightly blackened.
13 Responses to "Homemade Green Bean Casserole"
Leave a Comment