Egg, Avocado, Apple Salad
Have you guys heard of Secret Recipe Club? I have been participating for the last few months and it's been a great way for me to find new blogs and try new recipes. It's been a ton of fun and I highly recommend joining if you haven't already.
This month, I was happy to find I was paired with another blogger I had never heard of – From Arepas to Zwetschgen! I searched through the various posts and saw tons of great salad and sandwich recipes. I chose this recipe because we had some delicious lettuce, red onion, and cherry tomatoes in our CSA box last week.
This salad was amazingly delicious and filling. The pecans gave a nice crunch to the salad and the avocado and hard boiled egg gave the salad some heft and creaminess. I dressed the salad with some olive oil and balsalmic vinegar. Hubby commented that this salad would be great with some grilled chicken on top as well.
One Year Ago: Blueberry Rhubarb Pie, Caramelized Onions, Homemade Hamburger Buns, and Salmon Burgers
Two Years Ago: Rhubarb Raspberry Jame and Peanut Butter Brownies
Three Years Ago: Panzanella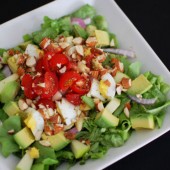 Egg, Avocado, Apple Salad
Ingredients:
Mixed greens
2 hardboiled eggs, peeled and sliced
1 avocados, cubed
1/2 apple, diced
Very thinly sliced red onion
2 Tbsp chopped almonds
Cherry tomatoes, cut in half
Olive oil and balsamic vinegar for dressing (or your favorite salad dressing)
Directions:
Place mixed greens, eggs, avocado, apple, and tomatoes on two plates.
Top with onion and nuts.
Dress with oil and vinegar just prior to serving.
Leave a Comment