Rhubarb Raspberry Jam
Rhubarb is definitely a summertime treat. I have definitely learned to appreciate it better this year. I've made my Dad's famous Rhubarb Rolls, and my sisters and I made some Strawberry Rhubarb Bars. When I needed a second Jam recipe for steph chows Jam Exchange, I started searching the Internet and quickly decided I wanted to try a rhubarb jam.
This site has a huge list of rhubarb jams and jellies. I decided on the rhubarb-raspberry jam partially because it has cardamom in it. Cardamom is a pretty random spice. The first I had heard of it was at a Vegan Cupcake Class I took last year. We had cardamom frosting on our chai spice cupcakes. It was awesome. Cardamom has a citrus-ey nutmeg-ey kind of flavor that kicks everything up a notch.
When I was at Penzey's a couple weeks ago, I grabbed a small jar hoping to find something to make with it (btw, the clerk said he likes to sprinkle cardamom on his coffee). So the next day when I was looking for jam recipes, the thought of cardamom was fresh in my mind.
If you like rhubarb, you'll love this jam. It has the tartness of the rhubarb countered by the sweetness of the raspberry. When Hubby tried it, he said "tastes like rhubarb… and raspberry…" I hope the person I sent my jams to enjoys them!
Don't forget to enter in my 2nd blogiversary giveaway by midnight on August 13th!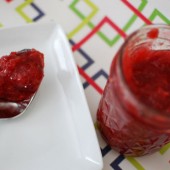 Rhubarb-Raspberry Jam
Ingredients:
4 cups 1-inch pieces fresh rhubarb (about 1 1/2 pounds)
2 cups sugar
1 Tbsp fresh lemon juice
1 1/2-pint raspberries
1/2 tsp ground cardamom
Directions:
Combine rhubarb pieces, sugar and fresh lemon juice in heavy large Dutch oven. Cover and refrigerate until juices form, stirring occasionally, at least 8 hours or overnight.
Bring rhubarb mixture to simmer over medium heat, stirring until sugar dissolves. Increase heat to high and boil until rhubarb mixture thickens slightly, about 5 minutes. Add raspberries and boil until mixture is thick, stirring occasionally, about 6 minutes longer. Remove jam from heat. Stir in ground cardamom. Cool jam completely. (Jam can be made 1 week ahead. Store in covered container in refrigerator.)
18 Responses to "Tunnel of Fudge Cake"
Leave a Comment