Homemade Hamburger Buns
I am in big trouble… Hubby has proclaimed that these hamburger buns are so good we shouldn't buy them at the store any more. While I agree that they are that good, I'm worried that he's going to be expecting homemade hamburger buns around the house often…
It's not that they're difficult to make, they just take some time with the rising and whatnot. But boy are they worth it. And they freeze well. Each batch makes 8 buns, so they last a decent amount of time since we don't keep much bread in the house.
This is definitely one of those foods that is worth the small amount of effort to make at home. So the next time you'll be home for a few hours, make these buns. You'll thank me.
Be sure to check back next week when I'll be sharing some great ways to fill these buns!
Two Years Ago: Panzanella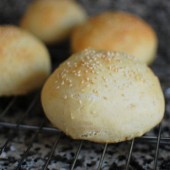 Homemade Hamburger Buns
Ingredients:
3 Tbsp warm milk
1 pkg (2 1/4 tsp) yeast
2 1/2 Tbsp sugar
2 eggs
3 cups bread flour
1/3 cup all-purpose flour
1 1/2 tsp salt
2 1/2 Tbsp unsalted butter, softened
sesame seeds (optional)
Directions:
In a glass measuring cup, combine 1 cup warm water, the milk, yeast and sugar. Let stand until foamy, about 5 minutes. Meanwhile, beat 1 egg.
In a large bowl, whisk flours with salt. Add butter and rub into flour between your fingers, making crumbs. Using a dough scraper, stir in yeast mixture and beaten egg until a dough forms. Scrape dough onto clean, unfloured counter and knead, scooping dough up, slapping it on counter and turning it, until smooth and elastic, 8 to 10 minutes.
Shape dough into a ball and return it to bowl. Cover bowl with plastic wrap and let rise in a warm place until doubled in bulk, 1 to 2 hours.
Line two baking sheets with parchment paper. Using dough scraper, divide dough into 8 equal parts. Gently roll each into a ball. Arrange 4 of the dough balls onto each baking sheet, 2 to 3 inches apart. Cover loosely with a clean kitchen towel and let buns rise in a warm place for 1 to 2 hours.
Set a large shallow pan of water on oven floor. Preheat oven to 400 degrees with rack in center.
If the buns have risen too much and are really flat, reshape into balls.
Beat remaining egg with 1 tablespoon water and brush some on top of buns. Add sesame seeds if using. Bake, turning sheet halfway through baking, until tops are golden brown, about 15 minutes. Transfer to a rack to cool completely.
One Response to "Challah Bread"
Leave a Comment