Blueberry Cobbler Bars
Are you guys ready for some blueberry recipes? Hubby and I picked fifteen pounds of blueberries! So I've been baking up a storm the last few days to use them all up. I have quite a few that we froze because blueberries freeze so well. This way we'll have freshly picked blueberries year-round for some delicious summertime treats no matter what the weather is doing outside.

These bars taste just like the name implies. Like a delicious blueberry cobbler, but in a portable little bar. I shared these with some friends and coworkers and every really enjoyed them.
I think you could substitute any fruit that you have on hand in place of the blueberries in this recipe. Raspberries would be delicious! Be sure to stay tuned for more blueberry recipes coming your way!
One Year Ago: Watermelon Cucumber Salad, Peach, Goat Cheese, and Caramelized Onion Quesadilla, and Two Potato and Spinach Salad
Two Years Ago: Crockpot Chicken Tacos, Strawberry Rhubarb Bars, and Vanilla Peach Bourbon Jam
Three Years Ago: Bacon Wrapped, Goat Cheese, and Almond Stuffed Dates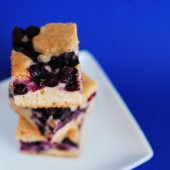 Blueberry Cobbler Bars
Ingredients:
1/2 cup canola oil
1/4 cup butter, softened
2 cups sugar
4 large eggs
1 tsp vanilla
1 tsp almond extract
1 1/2 cups all purpose flour
1 1/2 cups whole wheat flour
1/4 tsp baking soda
4 cups blueberries
Directions:
Preheat oven to 350. Line a 9x13" pan with foil or parchment paper and spray with nonstick spray.
In a large bowl, cream together canola oil, butter and sugar. Add eggs, vanilla, and almond extract and beat well. Add the flours and baking soda and stir just until the batter comes together.
Spread 2/3 of the batter in the bottom of the pan. Sprinkle with berries, then drop the remaining dough in spoonfuls over the fruit.
Bake for 60-70 minutes, until golden and springy to the touch.
30 Responses to "Dorie's Perfect Party Cake"
Leave a Comment