Watermelon Cucumber Salad
Hubby and I love throwing together simple salads in the summertime. When I saw this watermelon cucumber salad in my Food Network magazine, I knew this would make a perfect side dish. It's so easy to throw together and has such a refreshing taste.
The goat cheese provides a nice saltiness that compliments the sweetness from the fresh watermelon. And I love the hint of mint in the salad!
If you are going to make this (and I definitely recommend that you do!), you should serve it the day you make it. The watermelon and cucumbers give off a lot of water and make it really runny the next day. It still tastes delicious, it's just a bit watery. Be sure to pat the the watermelon and cucumbers as dry as you can prior to mixing into the salad.
Two Years Ago: Bacon Wrapped, Goat Cheese and Almond Stuffed Dates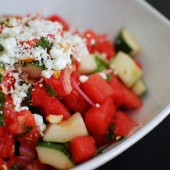 Watermelon Cucumber Salad
Ingredients:
1/2 red onion, sliced thinly
4 cups watermelon, diced
1 cucumber, seeded and sliced
2 Tbsp mint, thinly sliced
1/4 cup chopped almonds
1/4 cup olive oil
juice of 1/2 lemon
salt to taste
crumbled goat cheese
Directions:
Place chopped watermelon and cucumber on a clean dry towel. If you don't want to get a towel all messy, use a very thick layer of paper towels. Pat them dry. Set aside.
Soak sliced red onion in cold water.
Toss watermelon and cucumber with mint.
Drain the onion, squeeze dry and add to the salad along with some chopped almonds. Add olive oil and lemon juice; season with salt and toss. Top with crumbled goat cheese.
2 Responses to "Spicy Sweet Pretzel Party Mix"
Leave a Comment