Two Potato and Spinach Salad
Hubby has a lot of favorite foods. I was going to start off this post by saying "Hubby loves potato salad" but I feel like a broken record because I say that about everything. I guess I shouldn't complain. I know a lot of people out there have to deal with picky eaters in their family. Hubby will eat anything I put in front of him.
Now Hubby isn't picky about his potato salad. He is perfectly happy with a potato salad from the grocery store. I prefer mine with less mayo. I do love this lemon cilantro potato salad that I've made multiple times (I'm told basil works well too, but cilantro is my fav, so I always go with that), but when I saw this two potato salad with spinach in my Food Network Magazine, I knew I wanted to try it. Then Kelsey posted her variation of the potato salad on her blog and I was sold.
I love subbing Greek yogurt for all sorts of ingredients. It definitely lightens up any dish without taking away from the taste or texture. Hubby and I gobbled this up and I definitely recommend adding the bacon. It provides a nice crunch and saltiness to round out the salad.
One Year Ago: Strawberry Rhubarb Bars and Vanilla Peach Bourbon Jam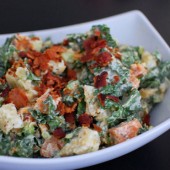 Two Potato and Spinach Salad
Ingredients:
4 strips thick-sliced smoked bacon
1 lb. sweet potatoes, peeled and cut into 1-inch cubes
1 lb. Yukon gold potatoes, cut into 1-inch cubes
1 tsp salt, plus more for seasoning
4 scallions, finely chopped
2 celery stalks, finely chopped
1/2 cup fat free greek yogurt
2 Tbsp low-fat mayonnaise
2 Tbsp Dijon mustard
1 Tbsp finely chopped fresh tarragon leaves or 1 tsp. dried
freshly-ground black pepper
6 oz. baby spinach, chopped roughly
Directions:
Cook bacon until crispy. Transfer the bacon to a plate lined with paper towels. When cool, crumble and set aside.
Put the sweet potatoes and Yukon gold potatoes in 2 separate saucepans. Cover the potatoes with water, add 1/2 teaspoon salt to each pot, and bring the pots to a boil over medium-high heat. Reduce the heat, and simmer the potatoes until they are just cooked through and tender. The sweet potatoes will cook in about 15 minutes, and the Yukon gold potatoes should be finished in about 12 minutes. Drain the potatoes, and allow them to cool.
Meanwhile, combine yogurt, mayonnaise, mustard, tarragon, salt, and pepper in a large bowl. Stir in scallions and celery. Toss to combine. Taste for seasoning, and add more salt or pepper, if needed.
When potatoes are completely cooled, toss in the potatoes and spinach.
To serve, garnish with bacon.
7 Responses to "Corned Beef"
Leave a Comment