Strawberry Rhubarb Bars
My sisters and I like to bake when we get together. It's just something fun we all enjoy. My older-younger sister had recently tried some strawberry-rhubarb pie and really wanted to make something with those flavors. After searching the Internet, we came across this recipe and decided to try it. I'm so glad we did. These bars are perfectly sweet and tart and so easy to make.
One year ago – Blueberry Lemon Basil Cupcakes
Don't forget to enter in my 2nd blogiversary giveaway by midnight on August 13th!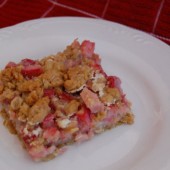 Strawberry Rhubarb Squares
Ingredients:
Crust and Topping
1 cup butter or margarine, softened
1 cup packed brown sugar
1 tsp vanilla
2 cups flour
1 1/2 cups quick-cooking oats
2/3 cup chopped nuts
1/2 tsp baking soda
1/4 tsp salt
Strawberry-Rhubarb Filling
2 cups sugar
2/3 cup flour
2 Tbsp milk
4 eggs
4 cups sliced strawberries (2 pints)
4 cups sliced rhubarb (8 stalks)
Directions:
Heat oven to 375°F. In medium bowl, mix butter, brown sugar and vanilla with spoon. Stir in 2 cups flour, the oats, nuts, baking soda and salt until crumbly (we needed to add more oats and flour, probably another cup of each. We also used our hands to mix this). Reserve 2 cups crumbly mixture. Press remaining crumbly mixture in ungreased 15x10x1-inch pan.
In large bowl, mix granulated sugar, 2/3 cup flour, the milk and eggs with spoon until smooth. Fold in strawberries and rhubarb. Spoon filling onto crust. Sprinkle with reserved crumbly mixture.
Bake 40 to 50 minutes or until topping is golden brown and filling is set. Cool slightly, about 30 minutes. For serving pieces, cut into 5 rows by 4 rows. Serve with whipped cream. Store covered in refrigerator.
– – makes 20 bars
Leave a Comment