Crockpot Chicken Tacos
Hubby got a new job (congrats Hubby!) and has been working a lot more to wrap up his old job and get the ball rolling with his new one. Because of that, I've been using the crockpot a lot more than usual. I've had this recipe saved for a while. Boy do we wish we had tried it before. The chicken is perfectly spiced and shreds apart so easily.
I served this chicken with some whole wheat tortillas, red onion, red bell peppers, and avocados.
Don't forget to enter in my 2nd blogiversary giveaway by midnight on August 13th!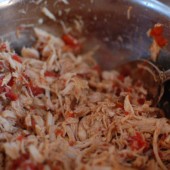 Crockpot Chicken Tacos
Ingredients:
2 1/2 Tbsp of homemade taco seasoning mix
15 oz low sodiumchicken broth
1 14.5oz can diced tomatoes and liquid
4 boneless skinless chicken breasts
Your favorite taco fixins
Directions:
In a large bowl or measuring cup pour the chicken broth in, and use a fork to whisk in the taco seasoning mixture.
Spray the slow cooker with non-stick cooking spray.
Open the diced tomato can and pour all contents over the bottom of the slow cooker.
Lay the chicken breasts on top of the tomatoes and pour the broth/seasoning over that.
Cover and cook on LOW for 6 hours- chicken should fork apart easily.
Use a slotted spoon to remove the cooked chicken to a large bowl and use 2 forks to shred it up.
Use the slotted spoon to get all the diced tomatoes out of the slow cooker and add to the shredded chicken. Then grab a large cereal spoon and add about 4-6 spoon fulls of the liquid from the slow cooker to the shredded chicken bowl and stir it all up!
17 Responses to "Dorito Oreo Popcorn"
Leave a Comment