Spring M&M Pretzel Treats
I realized I've posted these little treats on my blog, not once, not twice, but three times already. But they're seriously so simple and delicious, I decided it was ok to post them again.

I was at CVS yesterday browsing through the 50% off Easter candy when the M&Ms caught my eye. I had some almond bark in the pantry so I instantly thought of these treats. The last time I was home in the Midwest, I stocked up on almond bark at the grocery store. I haven't been able to find it in the Boston area anywhere. The Wilton candy melts work ok, but I definitely prefer using almond bark.

These are perfect for spring and we'll be taking them this weekend when we visit Hubby's family.

One Year Ago: Fauxstess Cupcakes
Two Years Ago: Summer Squash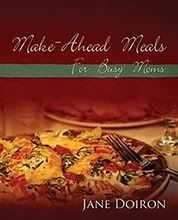 Don't forget about my giveaway. Be sure to enter by Midnight TONIGHT for your chance to win a Make-Ahead Meals Cookbook.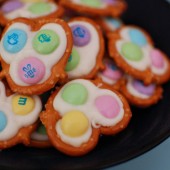 Pretzel M&M Treats
Ingredients:
1/2 lb mini-pretzels
1 big bag of M&Ms
1 packages of Almond Bark or 1 bags of Wilton candy melts (white)
Directions:
Line 2 cookie sheets with waxed paper. Lie pretzels (flat side down) on the waxed paper. They can be very close to each other.
Melt almond bark/candy melts according to the directions on the package. Using a spoon, scoop some of the melted almond bark into the holes of the pretzels OR using a squeeze bottle, squeeze melted candy into holes of pretzels.
13 Responses to "Maple Syrup and Birthday Cupcakes"
Leave a Comment