Vanilla Buttercream
Remember those white cupcakes I posted the other day? Did you notice the fluffy vanilla buttercream on top of them? Yea, it's pretty awesome. It was kind of mean of me not to include the frosting recipe with the cupcake recipe. But I thought this frosting deserved it's own post.

I once again turned to Bridget's blog to see what her thoughts were on frosting. I've tried PLENTY of vanilla frostings in my days. I am definitely partial to Swiss meringue buttercream. I love the texture. But this recipe I got from Bridget – I'm proud to say it's my new go-to vanilla buttercream. Hubby absolutely LOVES it! I've already made it twice since these cupcakes. Be sure to beat the heck out of it at the end so get that great smooth texture.

Since I've had Go-To Recipes on my brain recently, I've updated my sidebar to reflect some of my Go-To recipes and added a tag for them. Be sure to check it out! This recipe makes enough for 24 cupcakes. Be sure to double it to frost a layer cake. It can be stored in the fridge, but be sure to bring it to room temperature before using it.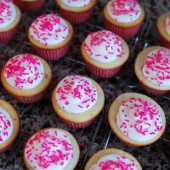 Easy Vanilla Buttercream
Ingredients:
20 tablespoons (2 1/2 sticks) unsalted butter, softened
2 1/2 cups Confectioners' sugar (10 ounces)
1/8 tablespoons table salt
2 teaspoons vanilla extract
2 tablespoons heavy cream
Directions:
In standing mixer fitted with whisk attachment, beat butter at medium-high speed until smooth, about 20 seconds.
Add confectioners' sugar and salt; beat at medium-low speed until most of the sugar is moistened, about 45 seconds. Scrape down bowl and beat at medium speed until mixture is fully combined, about 15 seconds.
Scrape bowl, add vanilla and heavy cream, and beat at medium speed until incorporated, about 10 seconds, then increase speed to medium-high and beat until light and fluffy, about 4 minutes, scraping down bowl once or twice.
6 Responses to "Vanilla Buttercream"
Leave a Comment