Crockpot Pulled Chicken
This recipe is long overdue for an appearance on the here. I think I made it the first time about a year ago. Hubby and I had a can of chipotles in the fridge that we had opened for another recipe so I set out to find something to use them up. Since that first time, we've made this recipe probably 8-9 times. Everyone who has had this chicken loves it. And I love how easy it is to make – gotta love the crockpot doing all the hard work!
Be warned, if you're a spice wimp like me, this might be a smidge on the spicey side for you. For everyone else, it'll be amazing though. That's the chipotles for you!
One Year Ago: Sesame Crisps and Spaghetti Squash with Spinach and Raisins
Two Years Ago: Crockpot Beef and Peppers and Creme Brulee
Three Years Ago: Cranberry Applesauce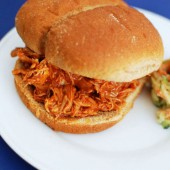 Crockpot Pulled Chicken
Ingredients:
1 (14 oz.) can tomato sauce
2-3 chipotle chiles in adobo, finely minced
1/4 cup cider vinegar
3 Tbsp honey
1 Tbsp plus 2 tsp. sweet or smoked paprika
2 Tbsp tomato paste
2 Tbsp Worcestershire sauce
3 tsp dry mustard
1 Tbsp chili powder
1 tsp salt
3 lbs boneless, skinless chicken thighs and breasts, trimmed of fat
1 medium onion, chopped
6 cloves garlic, minced
Directions:
Stir tomato sauce, chiles, vinegar, honey, paprika, tomato paste, Worcestershire sauce, mustard, chili powder and salt in a 6-quart slow cooker until smooth. Add chicken, onion and garlic; stir to combine.
Put the lid on and cook on low until the chicken can be pulled apart, about 5-6 hours.
Transfer the chicken to a cutting board and shred with a fork. Return the chicken to the sauce, stir well and serve.
3 Responses to "Open Faced Chicken Salad Club"
Leave a Comment