Cinnamon Roll Bread
I LOVE cinnamon rolls. LOVE them! I thoroughly enjoy the sweet soft dough and the ooey gooey cinnamon filling. And what's a cinnamon roll without some icing on top? While I enjoy making cinnamon rolls, sometimes I just don't have the time to commit.
Enter, the Cinnamon Roll Bread. It comes together in a snap and has all the great flavors of a cinnamon rolls, without the time commitment. I whipped these up on a Saturday morning and we both really enjoyed it. The bread isn't quite as good as a real cinnamon roll, but it definitely fulfilled a craving.
In case you're doubting my professed love of cinnamon rolls, be sure to check out the ones I've made in the past: Cinnamon Roll Cupcakes, Overnight Cinnamon Rolls, Cinnamon Roll Monkey Bread, and Pumpkin Cinnamon Rolls (with instructions on how to freeze cinnamon rolls).
One Year Ago: Sugar Cookie Bars and Cilantro chicken Burger
Two Years Ago: Creme Brulee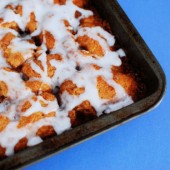 Cinnamon Roll Bread
Ingredients:
For the Dough
1 1/2 cups flour
1/3 cup sugar
1/4 tsp salt
4 tsp active dry or rapid rise yeast
2/3 cup warm milk (100-110F; low fat is fine)
3 Tbsp vegetable oil
1/2 tsp vanilla
1 egg
For the Filling
3 Tbsp butter, room temperature
3/4 cup brown sugar
1 tsp cinnamon
pinch ground cardamon
For the Icing
1 cup powdered sugar
1-2 Tbsp milk or cream
Directions:
Lightly grease an 8×8-inch square baking pan.
In a large bowl, combine flour, sugar and salt. Dissolve the yeast in a measuring cup filled with the warmed milk, then stir milk mixture, vegetable oil, vanilla extract and egg into the flour mixture. Mix well, until very smooth. Pour into prepared pan and let rest for 15 minutes.
While the dough rests, mix together butter, brown sugar, cinnamon and cardamom in a small bowl using a fork until all the butter has been incorporated into the sugar and mixture is crumbly. Sprinkle evenly on top of rested dough and press the mixture down into the dough with your fingertips.
Place pan into a cold oven, then set the oven temperature to 350.
Bake for about 30 minutes, until bread is lightly browned at the edges and the center of the bread springs back when lightly pressed. Some of the sugar mixture on top may still be bubbling.
Cool for at least 30 minutes before whisking the powdered sugar and milk together to form an icing and drizzling it onto the bread.
Serve warm. Leftovers can be reheated in the microwave.
One Response to "Cinnamon Banana Bread"
Leave a Comment