Cinnamon Roll Monkey Bread in a Bundt Pan
Hubby and I have some super creative friends. One of these friends decided to host a "Bundt Off". Apparently there had been a discussion about what makes a bundt a bundt. They decided it would be appropriate to have a cooking contest that revolved around the bundt pan. The only rule for the competition was that whatever you made, it had to hold the shape of a bundt pan when turned out onto a plate.
I searched through all my favorite blogs for bundt cake recipes and saw some great ones out there. But I wanted something more unique. I couldn't just do a chocolate cake in a bundt pan. I went through all sorts of crazy ideas and used Hubby as a sounding board.
I finally decided to combine two of my favorite breakfast foods into one bundt-tastic treat: The Cinnamon-Roll Monkey-Bread Bundt. I used the cinnamon roll recipe from the cinnamon roll cupcakes that I made last August, but I just made them smaller by cutting the dough in half lenthwise once it was rolled out. After I let the mini cinnamon rolls rise for the second time, I stacked them into the bundt pan with some additional cinnamon/sugar filling between each layer just like Monkey Bread.
Hubby grabbed my camera and snapped a few photos as I was assembling my bundt. Once the cinnamon rolls had all been stacked into the bundt pan, I threw it in the oven for about 40 minutes.
If I had been making this for us to eat at home, I would have immediately turned it out onto a plate when it came out of the oven. That would have given a nice gooey sauce oozing out from between the cinnamon rolls. However, for the competition, we had to turn out bundts out at the event. This meant that the ooey-gooey caramel sauce set up a bit during the 15 minute car ride over to the Bundt Off. It was still delicious, just not as ooey-gooey as I would have preferred.
I topped the bundt with some cream cheese frosting. As expected, this bundt was amazing! Everyone really enjoyed it. As far as the competition goes, I took second place, losing by just one point. However, one of the categories was bribery (we were encouraged to bribe the judges). I wanted to let my cooking speak for itself so I didn't partake in any bribing. The winning bundt was a pull-apart pizza roll stuffed with pepperoni and cheese. It was quite tasty! Congrats again, L!
By the way, I didn't get any good pictures of the bundt turned out with the lovely cream cheese frosting drizzled on it. It was quite a site to see. But my impatience and the lighting at my friend's house just weren't working. It did look very similar to the monkey bread that was just posted on Smitten Kitchen.
One Year Ago: Red Velvet Cupcakes and My New Favorite Way to Frost Cupcakes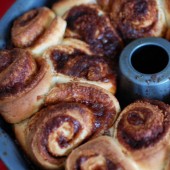 Cinnamon Roll Monkey Bread Bundt with Cream Cheese Frosting
Yield: 1 bundt, serves 6-8
Ingredients:
For the Cinnamon Rolls
2 1/4 tsp. or 1 packet (1/4 oz./7 g) dry active yeast
1/2 cup granulated sugar, divided
1 cup warm milk
2 eggs, room temperature
1/3 cup butter, melted
1 tsp. salt
4 1/2 cups bread flour
1 cup brown sugar, packed
2 1/2 Tbsp. ground cinnamon
1/3 cup butter, softened
For the Cream Cheese Frosting
4 oz cream cheese at room temp
1/2 stick butter at room temp
1 1/2 tsp vanilla extract
powdered sugar
Directions:
For the Cinnamon Rolls
Dissolve the yeast and 1/4 cup of the granulated sugar in the warm milk in a large bowl and let stand for about 10 minutes until foamy.
Mix in the eggs, butter, salt, and other 1/4 cup of granulated sugar. Add flour and mix until well blended and the dough forms a ball. Put in a bowl, cover and let rise in a warm place until doubled in size (about one hour).
After the dough has doubled in size, turn it out onto a lightly floured surface, cover and let rest for 10 minutes. In a small bowl, combine brown sugar and cinnamon. Spray bundt pan with PAM.
Roll dough into a 12x22 inch rectangle. Spread dough with 1/3 cup butter and sprinkle evenly with sugar/cinnamon mixture. Cut dough in half lengthwise so you have two long skinny rectangles. Starting with the cut edge, roll each rectangle and then cut into 24 rolls each for a total of 48 mini-cinnamon rolls.
Place the cinnamon rolls on a large cookie sheet. Cover and let rise until nearly doubled, about 30 minutes. Meanwhile, preheat oven to 400 degrees Fahrenheit.
Once the rolls have risen again, start stacking them into the bundt pan. Between layers, sprinkle additional brown sugar and cinnamon.
Bake bundt in preheated oven until golden brown, about 40-50 minutes. Allow bundt to cool 5 minutes then turn out onto serving plate. Drizzle frosting over bundt and serve warm or at room temperature.
For the Cream Cheese Frosting
Cream butter and cream cheese until fluffy.
Add vanilla extract.
Slowly add powdered sugar until desired consistency is reached.
17 Responses to "Pumpkin Cinnamon Rolls and How to Freeze Cinnamon Rolls"
Leave a Comment