Cinnamon Roll Bundt
Check out this Cinnamon Roll Bundt. It has all the flavor of a cinnamon roll, but with the simplicity of a bundt.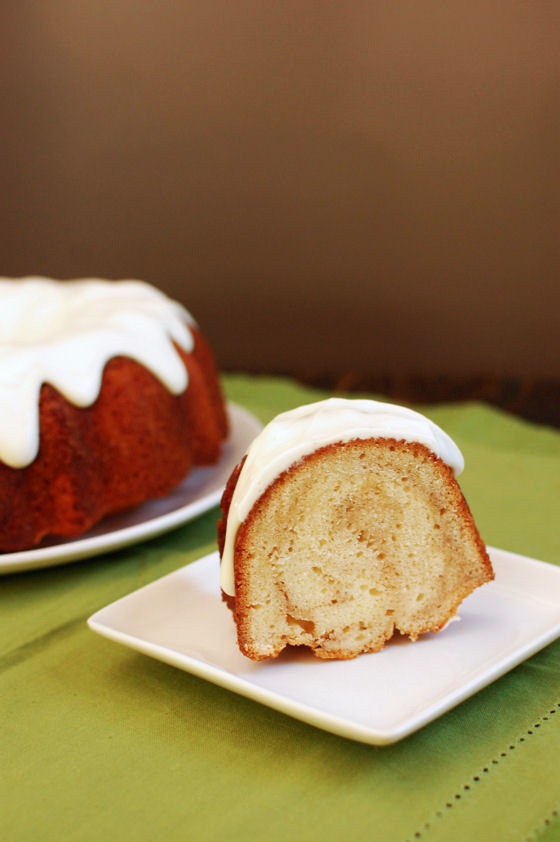 Have you guys met Mary from Food Librarian? She likes bundts. Like a LOT. So much so that she started a fun little series called I Like Big Bundts back in 2009. She wanted to celebrate National Bundt Day on November 15th and made a bundt every day for 30 days. She's made 30 bundts every year since then and has asked other bloggers to join her in the celebration. How could I not join in?!?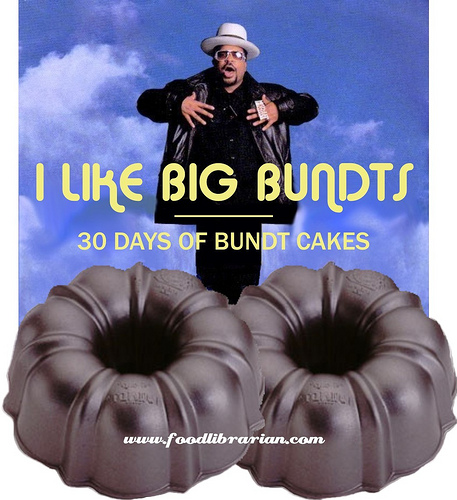 I love a good bundt just as much as the next person. Heck, just saying bundt is fun. Let alone thinking of the image above and getting "I Like Big Butts" stuck in my head all afternoon. One of my favorite things about bundts is that they're so low maintenance. There's no decorating of individual pieces like cupcakes. No stacking and decorating like layer cakes. But you still get the fun of bringing an impressive cake to your friends or family members. And just look how pretty they are with all those curves.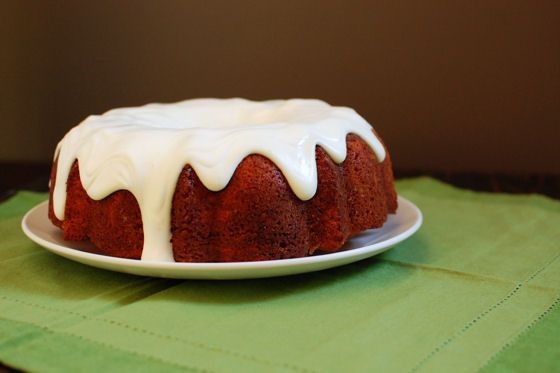 I made this Cinnamon Roll Bundt cake for a charity pig-out breakfast we had at work. Does anyone else's work do this? You pay a $5 donation to either bring food or just pig out. Then the day of, all the food gets put in a conference room and people get a plate and just pig out on all the awesomeness. There were muffins, a couple egg casseroles, some biscuits and gravy, and of course doughnuts at the pig-out.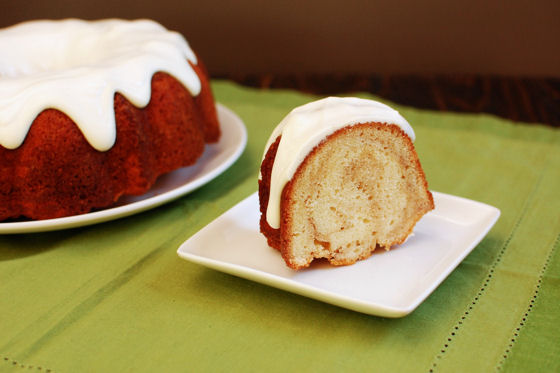 I had originally planned to make cinnamon rolls but was attracted to the simplicity of this recipe. And it still has that great cinnamon roll taste! This would be perfect to serve on a holiday morning since it can be prepared in advance and just stored in the fridge until you're ready to serve it.
Be sure to check out Food Librarian to see all of her bundts. She'll be posting a roundup of everyone who celebrated National Bundt Day soon as well!
One Year Ago: Dark and Stormy
Two Years Ago: Pumpkin Pancakes with Cranberry Compound Butter
Three Years Ago: Cranberry Sauce
Four Years Ago: Pumpkin and Chocolate Caramel Corn
Five Years Ago: Halloween M&M Treats
Six Years Ago: Lemon Berry Muffins and Deviled Eggs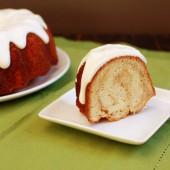 Cinnamon Roll Bundt
Check out this Cinnamon Roll Bundt. It has all the flavor of a cinnamon roll, but with the simplicity of a bundt.
Ingredients:
For The Cake
3 sticks (12 oz, or 24 Tbsp) unsalted butter at room temperature
2 Tbsp shortening or oil
1 1/2 cups sugar
6 eggs, at room temperature
3 cups sifted cake flour
3 tsp baking powder
1 tsp salt
1 cup sour cream
1 Tbsp vanilla extract
For The Swirl
1 stick (4 oz, or 8 Tbsp) unsalted butter, melted
1 tsp vanilla extract
2/3 cup brown sugar
1 1/2 tsp ground cinnamon
1 Tbsp flour
For The Cream Cheese Glaze
1 package (8 ounces) cream cheese, softened
1/2 cup powdered sugar
1/4 cup milk or more if needed
1 tsp vanilla extract
Directions:
For The Cake
Preheat oven to 325 degrees.
In the bowl of a mixer, combine butter, shortening (or oil) and sugar and beat on medium high until light and fluffy which takes about 5 minutes. Add eggs, one at a time, beating well after each addition.
Add half of sour cream to mixer and combine. Next add baking powder and salt to cake flour and pour half of flour mixture into cake batter and beat until incorporated. Again, repeat steps and add the remaining sour cream to batter followed by the rest of the cake flour and baking powder mixture. Lastly, add vanilla extract and mix until well combined but don't over mix.
For the Swirl
In a small bowl, whisk together melted butter, vanilla extract, brown sugar, ground cinnamon and flour until well mixed.
Spray one bundt pan with baking spray. Pour 1/4 of cake batter into bundt pan. Next drizzle some of the swirl mixture over batter and use a knife to create a swirl pattern. Repeat these steps, with first the cake batter then the swirl until all the cake batter is transferred to the bundt pan.
Bake for 1 hour and 10-20 minutes. Remove from oven and cool in bundt pan for 10 minutes then remove from pan and allow to cool.
For the Glaze
In a mixer bowl, beat together cream cheese, confectioner's sugar, milk and vanilla extract until smooth and pourable. Pour the glaze over the pound cake and serve.
4 Responses to "Cinnamon Chip Scones"
Leave a Comment