Sugar Cookie Bars for St Patty's Day
Happy St Patrick's Day! Hope everyone is enjoying the day and staying safe!
I wasn't going to bake anything for St Patty's day this year. But then I remembered these shamrock sprinkles. Our small grocery store always has the huge tubs of sprinkles on clearance after holidays. The tub holds probably 4 cups of sprinkles. I'll never in a million years go through 4 cups of sprinkles, but with a price tag of $1, I had to get them last year after St Patty's Day. (I also bought a tub of hot pink ones after Valentine's Day this year for $1).
Since it was about 9:30 last night when I decided to make something, I wanted a simple recipe that I knew would be delicious. I instantly remembered these bars from last year. They were quite the craze for a while. They showed up in a variety of blogs all across the internet.
I made a 1/2 batch this year in a 9×13 pan (recipe below is for a full batch). They were just as good as I remember. If you didn't make these last year, definitely make them soon! By the way, I don't think I've ever posted the same recipe twice on my blog until now. But these are seriously so easy and delicious. I've probably made them 4 times in the last year which is definitely saying a lot since I rarely make a recipe more than once.
One Year Ago: Cadbury Egg Bites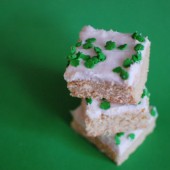 Sugar Cookie Bars
Ingredients:
For the Bars
1 cup butter; room temp.
2 cups sugar
4 eggs
2 tsp vanilla
5 cups flour
1 tsp salt
1/2 tsp soda
For the Frosting
1/2 cup butter at room temp
1/2 cup shortening
1 tsp vanilla
pinch of salt
4 cups powdered sugar
5 Tbsp milk
food coloring (optional)
Directions:
For the Bars
Preheat oven to 375 degrees F.
Cream butter and sugar until fluffy. Add eggs, one at a time, mixing after each egg. Add vanilla & mix well.
In a separate bowl combine flour, salt & soda & stir with a whisk to combine. Add to wet mixture and mix just until combined.
Spread on a greased baking sheet.
Bake for 10-15 min, until light golden brown or until a toothpick comes out clean. Cool completely and frost.
For the Frosting
Combine butter and shortening until smooth and creamy.
Add vanilla and salt.
Add powdered sugar in 1-2 cup increments until combined, then add milk & mix until smooth and spreading consistency.
Spread over cooled cookie, then cut into bars.
3 Responses to "Scallop Mango salad"
Leave a Comment