Mustard Chicken Salad
When Megan and I get together to bake, it's an all day affair. Making three recipes takes some time when you only have one oven. Especially if there's a yeast bread that has to rise. So we carefully plan out our day so that everything gets done efficiently.
We also plan a break for lunch at some point. That's where this salad came in. The last time we baked together was at my house, and I wanted something that was light but filling and would be easy to throw together ahead of time. This salad fit all of those requirements.
I cooked and cut the chicken and veggies before Megan came over. Then I had Hubby mix the dressing ingredients. I tossed the dressing on the chicken and veggies and plated it on top of a bed of mixed greens. The addition of tomatoes and broccoli make this chicken salad the kind that can be served as lunch without being smooshed between to slices of bread. It's great.
One Year Ago: Dipped Oreo Pops and Oreo Cheesecake Cupcakes
Two Years Ago: Brownie Pops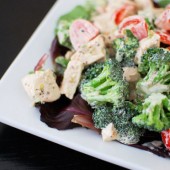 Mustard Chicken Salad
Ingredients:
2 bone-in chicken breast halves
1 Tbsp olive oil
2 cups broccoli florets
1/2 cup mayonnaise
1/2 Tbsp whole grain Dijon mustard
1 Tbsp Dijon mustard
1 Tbsp vinegar
2 Tbsp chopped fresh tarragon
1/2 pint cherry tomatoes, halved
kosher salt & freshly ground pepper, to taste
Mixed greens for serving
Directions:
Preheat the oven to 400 degrees. Place the chicken breasts on a baking sheet, rub them with the olive oil & season generously with kosher salt & freshly ground pepper. Roast for 35-40 minutes, or until cooked through. Set aside to cool slightly.
Meanwhile, bring a large pot of salted water to a boil. Blanch the broccoli for about 1 minute, or until just tender, yet still crisp. Drain & set aside.
To make the dressing, whisk the mayonnaise, both mustards & the vinegar together in a mixing bowl. When the chicken is cool enough to handle, dice it into bite sized pieces & transfer to a bowl.
Add the dressing & toss to coat.
Add the broccoli, tarragon & cherry tomatoes. Season with kosher salt & freshly ground pepper to taste & toss well. Serve as is, or over a bed of greens.
One Response to "Rabbit Food"
Leave a Comment