Spicy Sweet Pretzel Party Mix
Here's another great Superbowl snack idea. This mix is spicy and sweet and crunchy and very addictive. It's a snap to throw together and different from the store bought Chex mix that you might see at some Superbowl parties. I doubled this recipe and have it waiting in a ziplock bag for our Superbowl party on Sunday.
Other Superbowl party worthy foods:
Chicken Wings
Soft Pretzels
Spinach and Artichoke Dip
Mini Ham and Cheese Sandwiches
Bacon Wrapped Dates
Also be sure to check out my dessert tags (Cupcakes, Cookies, Bars/Brownies) for ideas for sweets for the big game.
You can also check out this post from The Novice Chef where she lists a whole bunch of Superbowl ideas.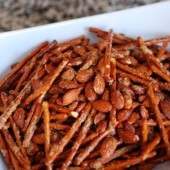 Spicy Sweet Pretzel Party Mix
The perfect gameday snack mix!
Ingredients:
2 cups thin pretzel sticks
1 cup natural almonds
2 tablespoons unsalted butter
2 tablespoons dark-brown sugar
1/8 teaspoon cayenne pepper
Directions:
Preheat oven to 300 degrees. Line a large rimmed baking sheet with parchment paper. In a large bowl, toss together pretzels and almonds.
In a small saucepan, bring butter, sugar, cayenne, and 1 tablespoon water to a boil, stirring constantly. Pour over pretzel mixture in bowl; gently toss to combine.
Spread pretzel mixture in a single layer on prepared sheet. Bake until almonds are crisp, about 20 minutes, tossing occasionally. Cool on sheet before serving. (To store, keep at room temperature, up to 5 days.)
17 Responses to "Dorito Oreo Popcorn"
Leave a Comment