Spinach and Artichoke Dip
One of the best parts about any Superbowl party is the food. You're bound to eat more dip and finger foods on Superbowl Sunday than any other day. Spinach and artichoke dip is a classic that always goes over well. My brother is known for this dip. He made it once and we always request it from him. I finally got him to share his secret recipe and I'm sharing it with all of you. I highly recommend it if you're looking for a dip to take to your Superbowl party.
Be sure to check out the other Superbowl foods on my sidebar –>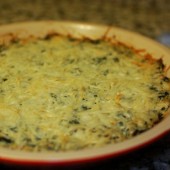 Spinach and Artichoke Dip
Ingredients:
1/2 cup shredded mozz cheese
1/2 cup sour cream
1/2 cup mayo
1/2 cup grated parm cheese
1 to 2 teaspons dijon-style mustard
Dash of white pepper
1 - 14oz can artichoke hearts, drained and coarsely chopped
1 cup loosely packed, coarsely chopped spinch leaves
1/2 cup finely chopped red onion
serve with scoops or pita chips
Directions:
In a large bowl combine mozz cheese, sour cream, mayo, 1/4 cup of parm cheese, mustard, & pepper.
Stir in artichokes, spinach, and onion.
Spread evenly into a 9-inch round plate.
Sprinkle remaining 1/4 parm cheese over top of mixture.
Bake uncovered at 350 degrees for 15 minutes or until heated through. The top should be browned and the sides should be bubbling.
Leave a Comment