The Best Rice Krispies Treats
Adding some mix-ins, a heavy pinch of salt, and some extra marshmallows takes your run-of-the-mill rice krispies treats to a whole new level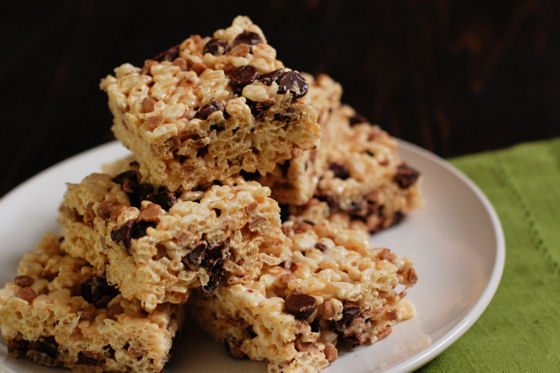 A couple weekends ago, we were in Illinois for my nephew's first birthday party. I was in charge of providing desserts for the party. My sister went with a monster theme for the party. She had a bunch of cute decorations! For the desserts, I made a 2-layer 6-inch cake for Ryan, 4 dozen cupcakes and some rice krispies treats.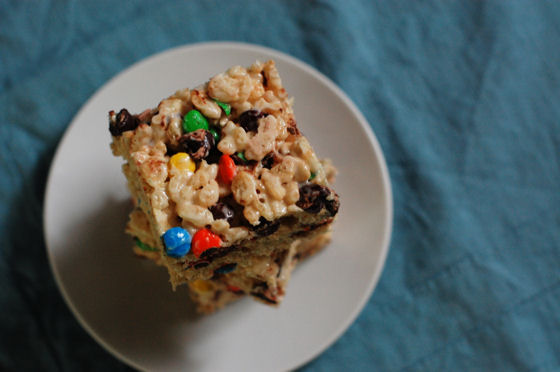 Now some people are perfectly content with the recipe on the marshmallow or Rice Krispies box. Personally, I want more ooey-gooeyness in my rice krispies treats. So for years, I've always thrown more butter and marshmallows in mine. And of course, a sprinkle of salt on desserts always takes them to the next level. A couple years ago, I started throwing other things in my rice krispies treats too. I mean, why not.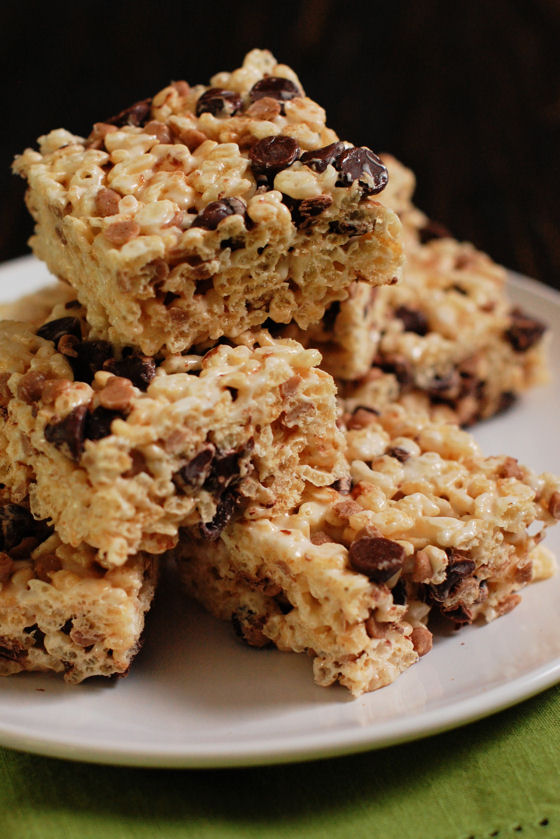 My favorite combination these days is cinnamon chips and chocolate chips. But be warned, I am not at all a fan of the Hershey's cinnamon chips that you can get at most grocery stores. To me, they taste waxy and really chemically. And not super cinnamon-y. Instead, I prefer the King Arthur Flour cinnamon chips. They pack a real cinnamon punch and I've been throwing them in everything.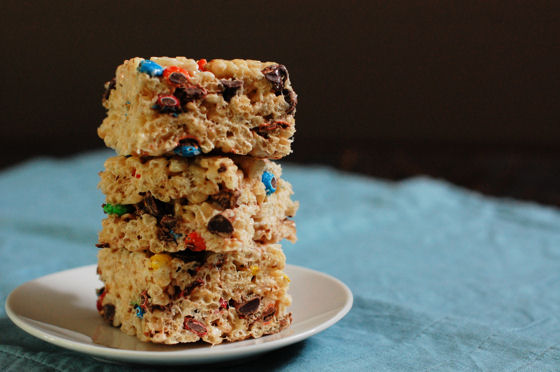 For the party, I decided to go with my favorite combo for the adults in the crowd and made some with mini M&Ms and chocolate chips for the kids. In reality, kids and adults liked both flavors. They were a huge hit, as were the rest of the treats I brought. By the way, I used my go-to yellow cupcake recipe for half the cupcakes and the cake and my go-to chocolate cupcake recipe for the rest of the cupcakes. I used this white chocolate buttercream for the frosting.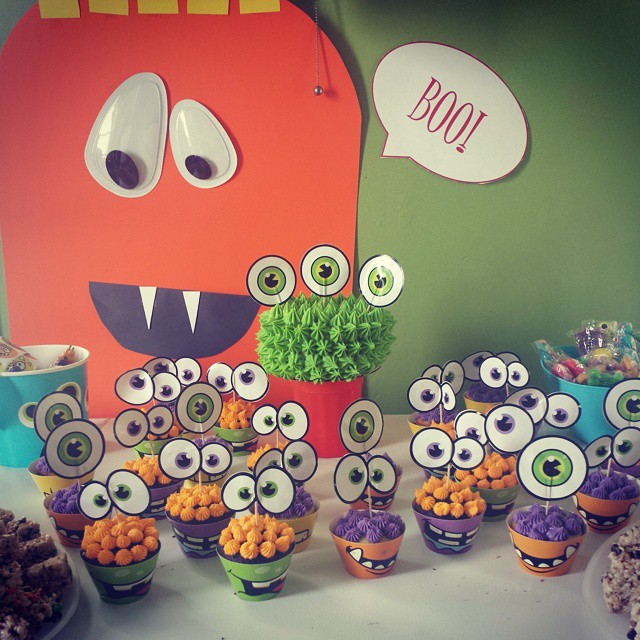 Picture from Instagram
In other news. Today I'm 20 weeks! So I'm halfway towards meeting my little ninja!!
Two Years Ago: White Chocolate Raspberry Blondies
Three Years Ago: Mashed Sweet Potatoes with Beets
Four Years Ago: Roasted Beet Hummus
Five Years Ago: Pecan Pie Cookies
Six Years Ago: Peppery Lemon Brown Sugar Salmon
Seven Years Ago: Banana Blueberry Muffins


Don't forget to enter in my Power of Pink Challenge for your chance to win a $100 donation to the charity of your choice.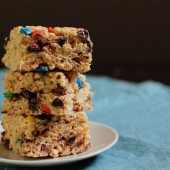 The Best Rice Krispies Treats
Adding some mix-ins, a heavy pinch of salt, and some extra marshmallows takes your run-of-the-mill rice krispies treats to a whole new level
Ingredients:
6 cups Rice Krispies cereal
1 3/4 cup mix-ins such as chocolate chips, mini M&Ms, etc
4 Tbsp butter
16 oz mini-marshmallows (~6 cups)
1/2 tsp Kosher salt (optional)
Directions:
Spray a 9x13 pan with non-stick spray and set aside.
Measure out cereal in to a large bowl. Measure out mix-ins in to a small bowl.
In a large pot, melt the butter on low. Stir in the marshmallows. Stir regularly until all marshmallows are melted.
Pour melted marshmallow mixture over the cereal. Use a wooden spoon to combine.
Once fully combined, allow mixture to cool for 2-3 minutes. This will feel like forever, but the mixture needs to cool a bit so that it doesn't melt your mix-ins.
After the 2-3 minutes, stir in the mix-ins. Pour mixture in to the prepared pan. Spray more non-stick spray on your hands and push down in to pan.
Sprinkle the salt evenly over the pan and allow to cool completely before cutting and serving.
2 Responses to "The Best Rice Krispies Treats"
Leave a Comment