Mashed Sweet Potatoes with Beets
Holy pink deliciousness! These mashed sweet potatoes with beets are amazing. And just LOOK at that color! The cooked green onions on the top really enhance the flavor of the mashed sweet potatoes and beets.
Hubby ate these in his lunch for a couple days. He said some of the guys at work asked him quite a few questions about the pink food… We both really liked these and I can't wait to make them again.
Don't forget about my Power of Pink Challenge – make something PINK by the end of the month to raise Breast Cancer Awareness!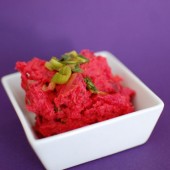 Mashed Sweet Potatoes with Beets
Ingredients:
3 medium sweet potatoes
2 medium beets
1 cup 0% fat greek yogurt
salt and pepper to taste
1 bundle green onions
1 Tbsp butter
Directions:
Preheat oven to 425. Cut potatoes and beets into large chunks. Place on a baking sheet and bake for 45 minutes or until tender.
Place potatoes and beets in a bowl and mash with a potato masher. Stir in the yogurt and salt and pepper.
Chop the green onions and sautee with the butter in a small pan.
Top mashed sweet potatoes and beets with green onions. Taste and adjust seasoning if necessary.
Leave a Comment