Roasted Beet Hummus
I decided that this year for the Power of Pink, I wanted to try to make things that are naturally pink. In the past, I've always relied on food coloring or colored M&Ms to make my pink foods. I'm just upping the ante for myself.
I starred this recipe in my Google Reader a long time ago so that I'd remember to make it in October. This hummus is seriously BRIGHT PINK! It's kind of weird to eat something this color, but the color all natural due to the beets.
The flavor of the hummus isn't overly beet-y, which I was actually disappointed about… I have only recently started eating beets and this was the first time I ever bought some and prepared them at home (woohoo that means I've finished something on my 30-by-30!)
Hubby and I enjoyed this hummus on pita chips, fresh raw veggies, sandwiches, you name it. Next time I'd cut back on the cumin, but that's just personal preference.

I'm entering this in the Power of Pink Challenge. Be sure to submit your entry by the end of the month by making something PINK!
Three Years Ago: Banana Blueberry Muffins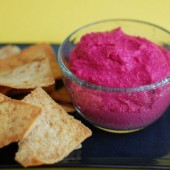 Roasted Beet Hummus
Ingredients:
1-2 medium beets
1 can of chickpeas, drained and rinsed
1 Tbsp olive oil
1 small onion, chopped finely
3 cloves chopped garlic
1/2 cup tahini or sesame paste
1 Tbsp cumin
1/4 cup lemon juice
1/4 cup olive oil
Directions:
Preheat the oven to 450 degrees. On a large roasting pan covered with foil, roast the beets for 40-70 minutes, or until smooth when poked with a fork. Remove from the oven and allow to cool, then peel and cut into small chunks.
In a small frying pan, heat the tablespoon of olive oil. Add the onions and garlic and saute until soft, about 4 minutes.
Whisk together the lemon juice and olive oil in a small bowl.
In a food processor, chop the beets, onions, garlic, and chickpeas together until smooth. Add the tahini and cumin, and process again. Scrape down the sides and bottom of the bowl, then replace the lid. While the blades are running, slowly add the lemon juice and olive oil mixture until the hummus is at your desired consistency.
7 Responses to "Raw Summer Vegetable "Pasta""
Leave a Comment