Steak Peppercorn Salad
I can't get enough salad these days. I guess that's what happens when produce is fresh and in season and down-right delicious. While some nights we enjoy a grilled Caesar salad, and other nights I just throw a bunch of veggies in a bowl with oil and vinegar, still other nights I like to serve salad as our entire meal.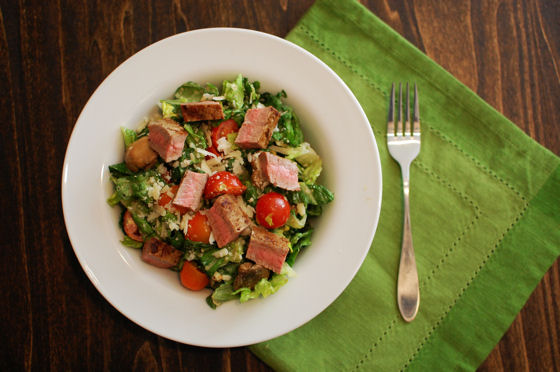 Having never used green peppercorns before, I wasn't sure what to expect from the dressing on this salad. It reminded me of a peppery creamy dressing you might have at a steak house. Since it's so flavorful, a small amount goes a long way.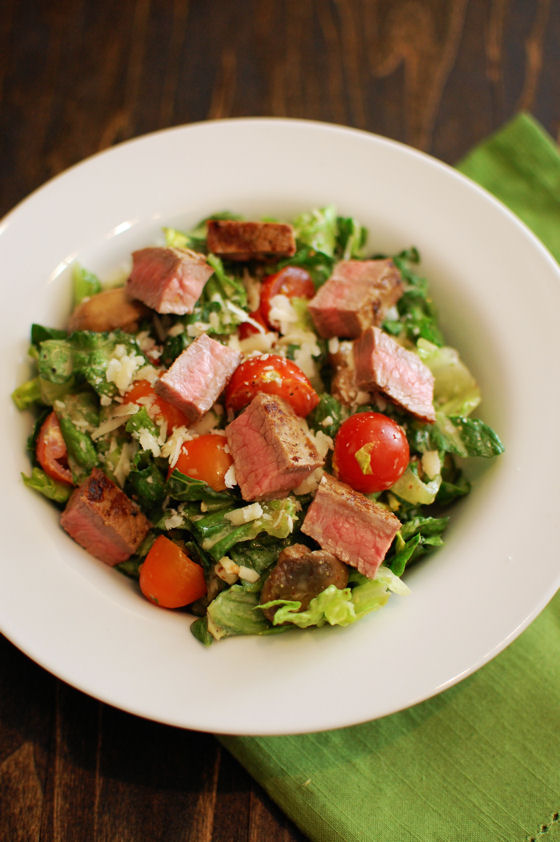 We enjoyed this salad with steak on top, but it would be equally fulfilling with chicken or shrimp. Or even tofu, I'm sure. And as far as the mix-ins goes, use whatever is fresh in your region or whatever you have on hand. I can't wait to make this again with the crunch from some red bell peppers.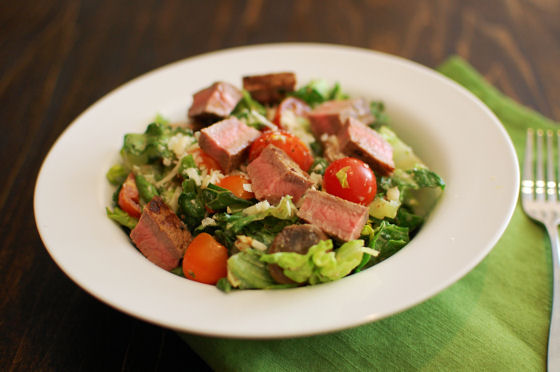 One Year Ago: Maple Barbecue Ribs
Two Years Ago: Herbed Goat Cheese Stuffed Strawberries
Three Years Ago: Chocolate Mousse Cupcakes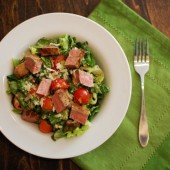 Steak Peppercorn Salad
Yield: Serves 4
Prep Time: 15 minutes
Cook Time: 20 minutes
Total Time: 35 minutes
Ingredients:
2 8-ounce beef eye round steaks
4 tsp dijon mustard
Kosher salt and freshly ground black pepper
3 Tbsp olive oil
8 ounces white mushrooms, halved or quartered
1/4 cup grated parmesan cheese, plus more for topping
3 Tbsp Greek yogurt
2 to 3 tsp brined green peppercorns, drained, plus 1 tsp brine from the jar
2 large romaine lettuce hearts, chopped
3 stalks celery, sliced
1 pint cherry tomatoes, halved or quartered
Directions:
Rub the steaks all over with 1 teaspoon mustard and 1/4 teaspoon each salt and black pepper. Heat 1 tablespoon olive oil in a large nonstick skillet over medium-high heat. Add the steaks and cook until browned, 5 to 6 minutes per side for medium rare. Transfer to a cutting board. Wipe out the skillet.
Heat 1 more tablespoon olive oil in the skillet. Add the mushrooms and cook, undisturbed, until golden, about 2 minutes. Season with salt and continue to cook, stirring, until just soft, 3 more minutes.
Whisk the parmesan, Greek yogurt, 3 tablespoons water, the remaining 1 tablespoon olive oil and 3 teaspoons mustard, the green peppercorns and brine, and 1/4 teaspoon each salt and black pepper in a large bowl. Add the mushrooms, lettuce, celery, tomatoes and croutons and toss.
Cut the steak into bite-size pieces; add to the bowl and toss. Divide among plates and top with more parmesan.
3 Responses to "Turnip Puff"
Leave a Comment