White Bean Soup with Andouille and Collard Greens
It's definitely that time of year. The bitter cold wind outside makes you crave foods that will warm you from the inside to the out. I first made this soup a couple months ago. I didn't have time to make it in the crockpot like Erin did, so I just made it with canned beans in a large pot. Since then, I've played around with the recipe a few times and have come up with a soup that Hubby and I really enjoy.
I like to make a big batch on Sunday afternoon and we eat it throughout the week for lunch or a quick dinner. The andouille sausage gives a great flavor to the broth of the soup.
One Year Ago: Chicken Noodle Soup
Three Years Ago: Banana Bars with Cream Cheese Frosting
Four Years Ago: Holiday Cupcakes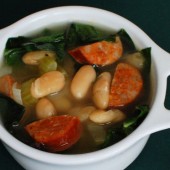 White Bean Soup with Andouille and Collard Greens
Ingredients:
2 Tbsp olive oil
1 large onion, chopped
1 lb celery (about 12 stalks), chopped
4 sprigs fresh thyme
12 oz andouille sausage links, halved lengthwise and sliced crosswise
8 cups low-sodium chicken broth
2 cans white beans (such as cannellini or great Northern)
1 bunch collard greens, stems discarded and leaves cut into bite-size pieces (about 8 cups)
kosher salt and black pepper
bread of your choice for serving
Directions:
In a 5 or 6-quart stock pot, heat the olive oil on medium-high heat. Add the onion, celery, and thyme. Cook until translucent, about 5 minutes.
Add the andouille sausage and cook for two more minutes. Add the chicken broth and beans. Cover and simmer for 10-15 minutes.
Check seasoning and add more salt and pepper if needed. Stir in the collard greens and cook two minutes.
Serve immediately with bread of your choice.
Leave a Comment