Strawberry Champagne Layer Cake
Flavors of champagne and strawberry compliment one another in this impressive layer cake that is festive for any special occasion.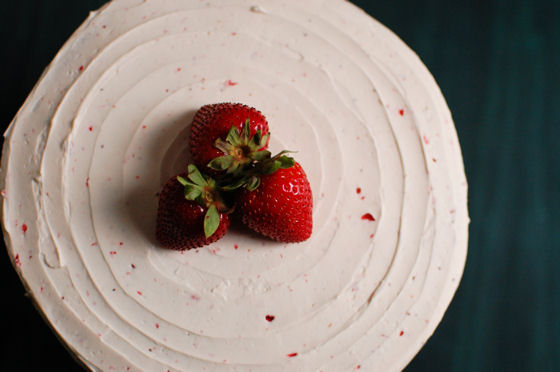 Can you guys believe this year is almost OVER. It's literally going to be 2014 soon. This year flew by faster than I could have imagined… Do you have plans for New Years Eve? Hubby and I are hosting a little party at our house on New Years Eve. So on top of holiday shopping (thank you Amazon), working a ton, and being sick, I've also been thinking about the food for our NYE party.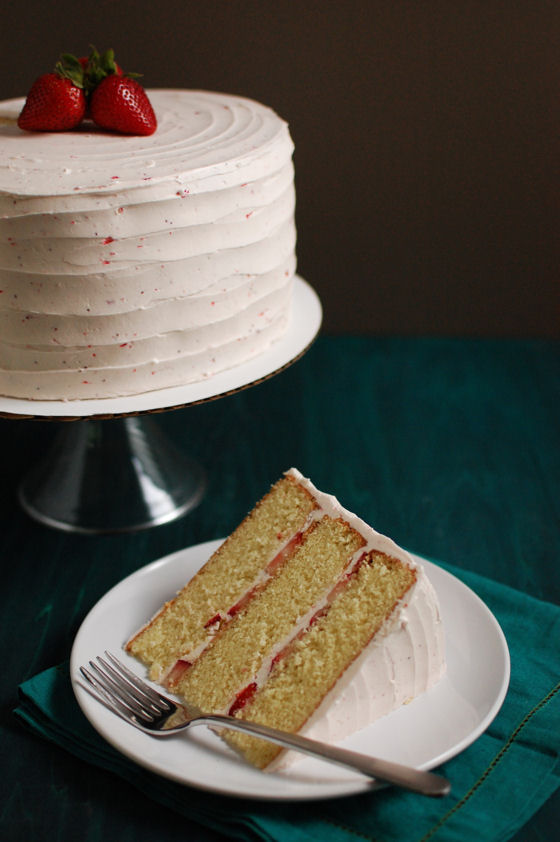 I'm planning to do a spread of appetizers and a couple desserts. I like to do one big and impressive dessert for celebrations like New Years Eve. And since everyone drinks champagne on NYE, this is the perfect cake to make one last impression for 2013.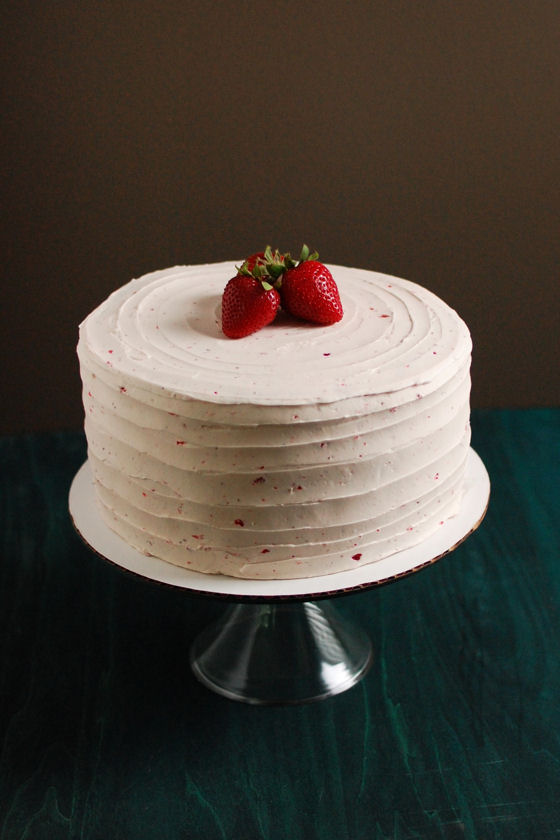 I actually made this cake to take to a friend's party earlier in the year. It was so good that it's on the top of my list for the NYE party. And that's saying something since I rarely re-make desserts, especially layer cakes.
The flavors in this cake are all subtle. The champagne comes through, as do the strawberries, and they compliment each other without either one overpowering the other.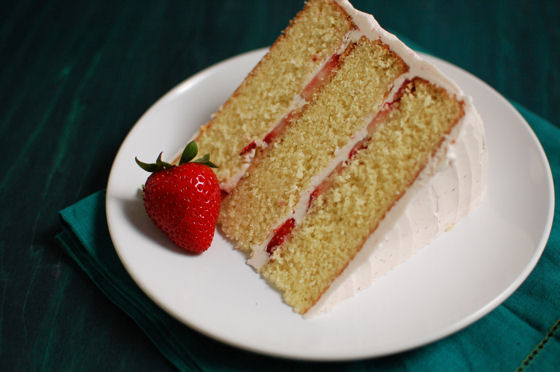 I made a few changes from the original recipe. First, I added a thin layer of strawberries between the layers of cake. Second, I opted to leave off the white chocolate ganache. Be sure to check out Megan's version of this cake to see it with the ganache. How can you not be impressed by this cake?!?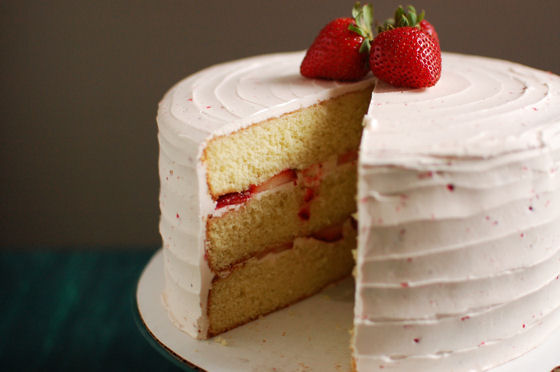 Two Years Ago: Candy Cane Chocolate Oreo Cupcakes and Cranberry Cheesecake Spread
Three Years Ago: Gingerbread Caramels and Peppermint Chocolate Chip Cookies
Five Years Ago: Chocolate Peppermint Meringue Kisses and Chocolate Covered Cherry Cookies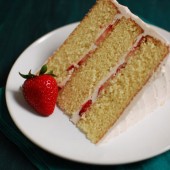 Strawberry Champagne Layer Cake
Flavors of champagne and strawberry compliment one another in this impressive layer cake that is festive for any special occasion.
Yield: Serves 16
Total Time: 3 hours
Ingredients:
For the Champagne Cake
3 3/4 cups Flour
1 3/4 tsp baking powder
1/2 tsp baking soda
1/2 tsp table salt
3 1/3 cups sugar
15 Tbsp unsalted butter, melted and cooled slightly
1 1/2 cup champagne, flattened
5 Tbsp vegetable oil
1 Tbsp vanilla
9 egg yolks, room temperature
5 egg whites, room temperature
For the Strawberry Swiss Meringue Frosting
5 egg Whites
1 1/4 cup sugar
1 1/2 cup butter, cut into cubes
2 tsp vanilla
1/4 cup strawberry puree
pinch of salt
10-12 strawberries, thinly sliced
Directions:
For the Champagne Cake
Adjust oven rack to middle position and heat oven to 340 degrees. Grease three 9" round cake pans and line bottoms with parchment paper. Whisk flour, baking powder, baking soda, salt and 2 1/2 cups sugar together in large bowl. In mixing bowl whisk together melted butter, champagne, oil, vanilla, and yolks.
In clean bowl of stand mixer fitted with whisk attachment, beat egg whites at medium-high speed until foamy, about 30 seconds, gradually adding in remaining sugar; continue to beat until stiff peaks just form. Transfer to a separate bowl and set aside.
Add flour mixture to now empty mixing bowl fitted with whisk attachment. Gradually add in butter mixture and mix until just incorporated. Stop mixer and scrape whisk and sides of bowl. Return mixer to medium-low speed and beat until smooth and fully incorporated.
Fold the egg whites into the batter, pour into cake pans and bake for approximately 35 minutes or until a toothpick comes out clean. Let cake rest in cake tins for 10 minutes before turning out onto a wire cooling rack. Cool Completely before frosting. When cool, level tops of cake with sharp knife and discard cake cuttings. Set aside until ready to decorate.
For the Strawberry Swiss Meringue Frosting
Place three to four strawberries into food processor and puree, set aside ¼-⅓ cup of Strawberry puree.
Wipe the mixer bowl and attachments with lemon or vinegar to make sure they are all completely clear of any residual grease. Add egg whites and sugar to mixing bowl, and place it over a sauce pan of simmering water. Whisk constantly but gently, until temperature reaches 160°F, or until the sugar is totally dissolved and the eggs are hot.
With whisk attachment of mixer, begin to whip until the meringue is thick, glossy, and the bottom of the bowl feels nearly room temperature. *Don't begin adding butter until the bottom of the bowl feels neutral, and not warm.
Switch over to paddle attachment and add butter one cube at a time until all has been added and is incorporated. and mix until it becomes smooth. If mixture is too soft and runny, place in refrigerator for about 15 minutes and continue mixing with paddle attachment until it comes together. Add vanilla and salt, continuing to beat on low speed until well combined.
Add strawberry puree and beat until evenly incorporated. Add small amount of pink food colouring, if desired.
To assemble Cake
Level cakes and invert one cake layer on cake plate so that the bottom of the cake is the top. Dollop frosting onto it and spread evenly. Add a layer of thinly sliced strawberries. Repeat with other two layers. Frost top layer and smooth. Frost sides of the cake. Garnish with fresh strawberries.
Leave a Comment