Peppermint Chocolate Chip Cookies
As I've mentioned multiple times, chocolate and peppermint is one of my favorite flavor combinations. In fact, I love it year round. It seems that it's only acceptable to show this love of chocolate and peppermint during the winter months when it's chilly outside. So I take full advantage and try to make as many chocolate/peppermint things as I can in the months of December and January.
I've seen a variety of similar cookies popping up in blogs and cookie swaps all around me. I decided to take a chocolate chip cookie recipe that I know produces a thick and chewy cookie since the addition of the candy cane crunch (or crushed up candy canes) would likely thin out a cookie as they baked.
I remember this chocolate chip cookie recipe specifically because it was the first time my eyes were awaken to the amazing flavor of bittersweet chocolate. Now I use it almost exclusively in my baking when chocolate chips are called for. I just love the flavor.
I used the leftover peppermint crunch that I got from KAF in the recipe and they came out amazingly. The peppermint and chocolate both shine and don't overpower one another at all. This might just be my new favorite holiday cookie.
One Year Ago: Gingerbread Cupcakes with Lemon Cream Cheese Frosting
Two Years Ago: Butter Ball Cookies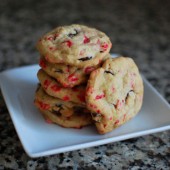 Peppermint Chocolate Chip Cookies
Ingredients:
1 cup butter, at room temp
1 cup brown sugar
1/2 cup sugar
2 eggs
1 1/2 tsp vanilla
3 cups plus 2 Tbsp flour
1 tsp baking soda
1/2 tsp salt
1 cup crushed candy canes or peppermint crunch
2/3 cup semi-sweet chocolate chips
1 cup bittersweet chocolate chips (or more semi-sweet if you don't have bittersweet)
Directions:
Preheat oven to 350 F. Line two baking sheets with parchment paper, or lightly butter them, and set aside.
In the bowl of an electric mixer, or stand mixer fitted with paddle attachment, or a large bowl if mixing by hand, cream the butter and sugars until light and fluffy. Add the eggs, one at a time, beating well and scraping down the sides of the bowl after each addition. Beat in the vanilla.
Sift the flour, baking soda and salt together in a small bowl. Add the dry ingredients to the butter-sugar mixture, and mix until just combined. Fold in the peppermint pieces and chocolate chips.
Using a cookie scoop or two spoons, scoop cookie dough onto prepared pans. Bake 12-15 for smaller cookies, 14-17 for larger ones or until the tops are a light golden brown (mine came out after 12 minutes).
Cool the cookies on the sheets for 5 minutes, then transfer to wire racks to cool completely.
8 Responses to "Fig and Port Cranberry Sauce"
Leave a Comment