Baked Brie with Kahlua Walnuts
I hope everyone had a great holiday weekend. Our holiday was filled with great food, family, and laughter. We kicked off the holiday season by going to see the Boston Ballet's Nutcracker. Hubby and I had the entire week off, so today is all about getting back into the swing of our routine.
Since December is right around the corner, the holiday parties are starting to accumulate on our calendar. It's always nice to have a simple dish that you can bring with you. The Kahlua walnuts are a sweet addition to melty gooey baked brie. I served this with sliced apples, but crackers or bread would have worked as well.
I used the trick I described when I made this Baked Brie with Grape Balsamic Compote to remove the casing from the top of the baked brie. Prior to baking your brie, use a sharp knife to cut around the top of the rind. You don't want to cut it completely off, just cut about a 1/4 inch into the brie right under the top all the way around. While the brie is in the oven, the cheese will get all melty and gooey. Then when you take it out of the oven, you can just remove the top of the rind like so:
Two Years Ago: Pumpkin Cranberry Pecan Upside Down Cake
Three Years Ago: New York Times Chocolate Chip Cookies and Thanksgiving Two-Fer Bars
Four Years Ago: Ina Garten's Outrageous Oreo Crunch Brownies and Peanut Butter Sandwich Cookies
Five Years Ago: Potato Pancakes with Cran-Apple-Sauce and Potato Bread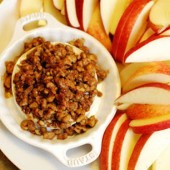 Baked Brie with Kahlua Walnuts
Ingredients:
13.2 oz wheel of Brie
2/3 cup pecans (2.5 ounces), toasted and chopped
1/4 cup brown sugar
2 1/2 Tbsp Kahlua
crackers
1-2 sweet apples (like Honeycrisp or Gala)
Directions:
Preheat oven to 350 F.
Place brie round in a small oven-safe dish. Using a sharp knife, cut into the rind about 1/4" all the way around, just under the top of the brie. You don't want to cut the top completely off.
Bake 8-10 minutes until the brie is softened, but not completely melted.
While the Brie is baking, in a small pan, mix the pecans, brown sugar, and Kahlua. Cook over medium heat until the mixture is bubbly and melted.
Remove Brie from oven and discard the top of the rind. Scoop walnut mixture over brie.
Serve with crackers and apple slices.
12 Responses to "Peppermint White Chocolate Chip Cookies"
Leave a Comment