Homemade Gingerbread Caramels
I've been wanting to make caramels for a very long time now for a couple of reasons. For one, Hubby LOVES caramel. It's his favorite sweet treat. For two, I seriously love using my candy thermometer. And for three, I'm always up for a challenge.
There have been plenty of caramel recipes floating around food blogs recently. Salted caramels, chocolate covered caramels, and toffee caramels just to name a few. I decided to spice things up by making this gingerbread caramel recipe. Not only does Hubby love caramel, he also loves molasses and gingerbread, so I knew this recipe would be a hit.
And I was right about that! Hubby and I gave ourselves stomach aches while cutting and wrapping up these little beauties.
A couple notes about this recipe. Be sure to use a huge pot. I used our big stock pot that we cook Lobsters in. I thought it would be too big, but it wasn't. When the caramel starts to really boil, it will boil up to nearly the top of the pot for a second before going back down. I also doubled the amount of spices in the recipe since many of the reviews online said they weren't very gingerbready.
I also checked my candy thermometer before starting the whole process. To do that, stick it in a pot of boiling water. It should read 100C or 212F on your thermometer. If it doesn't, just remember how far off it was (mine was off by about 2 degrees). And, if you make these, be ready for the cutting and wrapping process. This makes over 100 caramels. That's a lot of caramels to wrap. And they need to be wrapped because if the cut caramels sit next to each other, they will meld together into a big caramel. All that being said, these are definitely worth the effort.
Two Years Ago: Chocolate Peppermint Meringue Cookie Kisses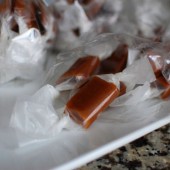 Gingerbread Caramels
Ingredients:
4 cups (2 pints) heavy cream
2 cups light corn syrup
4 cups sugar
12 Tbsp (1 1/2 sticks) unsalted butter, cut into small pieces
1/2 cup unsulfured molasses
1 tsp vanilla
3/4 tsp salt
2 tsp ground cinnamon
1 1/2 tsp ground ginger
1 1/2 tsp freshly grated nutmeg
1/2 tsp ground cloves
Vegetable-oil cooking spray
Directions:
Lightly coat a 12-by-17-inch rimmed baking sheet with cooking spray. Line with parchment paper, leaving a 2-inch overhang on short sides; spray paper.
In a large pot over high heat, bring cream, corn syrup, sugar, butter, and molasses to a boil, stirring until sugar has dissolved. Continue to cook over medium-high heat, stirring frequently, until mixture reaches 248 degrees (firm-ball stage) on a candy thermometer, about 20 minutes.
Remove from heat, and stir in vanilla, salt, and spices. Immediately pour onto prepared sheet, without scraping pot. Let stand, uncovered, 24 hours at room temperature (do not move pan).
Generously coat a large cutting board with cooking spray. Lifting it by the parchment overhang, invert caramel onto the cutting board; use a sharp knife to loosen parchment, and remove. Cut into 1-by-1 1/4-inch pieces. Wrap each in cellophane or waxed paper. Caramels can be stored up to 1 month in airtight containers.
6 Responses to "Caramel Pecan Bars"
Leave a Comment