Candy Cane Chocolate Oreo Cupcakes
By now you guys know that I love Oreos. Absolutely LOVE them. If you can even imagine it, I love Trader Joe's Candy Cane Joe Joe's even more than regular Oreos.
I learned that I can't be trusted with a box in the house. So I limit myself to only two boxes per season. I try to share, but inevitably I end up working my way through each box. Slowly, to fully enjoy them.
Last year, I kept holding out in buying my Candy Cane Joe Joe's. I didn't want to blow my load too early in the season. And guess what happened? When I finally decided to go and get some. They were ALL GONE. All of them. Sold out for the season. So I completely missed my fix last year. I have been trying to use that as an excuse to double my allowed number of boxes this year…
As I was enjoying one of my first Candy Cane Joe Joe's this year, it hit me. I love to bake with regular Oreos. Why not these little beauties? I instantly thought of my Oreo cupcakes that to this day are the most visited post on my blog, most requested cupcakes by almost everyone, and one of the all time favorites in our house.
Except, I wanted to mix things up. I wanted the cupcakes to be chocolatey. You know, since I love choco-minty things.
I basically combined my go-to chocolate cupcake recipe with the Oreo cupcakes to get this recipe. It worked like a charm.
The recipe below is written for regular Chocolate Oreo Cupcakes. I used Candy Cane Joe Joe's in mine and subbed peppermint extract for the vanilla in the cupcakes and the frosting. And obviously, I used some crushed up candy canes on top as a garnish.
One Year Ago: Caramel Pecan Bars
Two Years Ago: Peppermint Brownies
Three Years Ago: Chocolate Covered Cherry Cookies and Texas Sheet Cake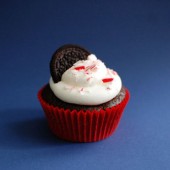 Chocolate Oreo Cupcakes
To make these cupcakes into Candy Cane Chocolate Oreo Cupcakes, use Candy Cane Joe Joe's and substitute peppermint extract for the vanilla.
Ingredients:
For the Cupcakes
2 oz unsweetened chocolate, chopped
1/4 cup Dutch-process cocoa powder
1 cup sugar
1/2 cup (1 stick) butter, cut up
1/3 cup water
1/2 cup milk
1 egg
1 egg yolk
1/2 tsp vanilla
1 cup flour
1 tsp baking powder
1/2 tsp baking soda
1/2 tsp salt
32 Oreo cookies
2 Tbsp flour
For the Cream Cheese Frosting
8 oz cream cheese at room temp
1 stick butter at room temp
1 Tbsp vanilla
3-4 cups powdered sugar
Directions:
For the Cupcakes
In a heatproof bowl, combine chocolate and cocoa powder.
In a saucepan over medium heat, heat the granulated sugar, butter, and water, stirring occasionally, until the butter melts and the sugar dissolves. Pour the butter mixture over the chocolate and whisk until the chocolate melts and the mixture is smooth.
Whisk the milk, egg, extra yolk, and vanilla into the chocolate mixture until combined.
In a bowl, stir the flour, baking powder, baking soda, and salt until blended. Add the flour mixture to the chocolate mixture and whisk until smooth.
Let the batter sit at room temperature for 1 hour or cover and refrigerate for up to 3 days.
Preheat oven to 350. Line cupcake pans to make 18 cupcakes with paper liners.
Twist apart 18 Oreos. Place the wafer with filling on it, filling side up, in the bottom of each paper liner. Cut other wafers in half. Save 18 halves to place in the frosting. Place the other halves in a small bowl with 2 Tbsp flour.
Cut the remaining Oreo cookies into quarters with a sharp knife. Add to bowl with Oreo halves and flour. Toss and set aside.
Gently stir Oreo/flour mixture into cupcake batter. Divide the batter among the muffin cups. Bake for 30 minutes or until the tops spring back when pressed lightly with a fingertip. Set on a wire rack and leave to cool completely.
For the Cream Cheese Frosting
Cream butter and cream cheese until fluffy.
Add vanilla extract. Slowly add powdered sugar until desired consistency is reached.
6 Responses to "Homemade Oreo Cookies Again"
Leave a Comment