Sugar Snap Pea Salad
Sugar snap peas are one of my favorite vegetables. They're just so crunchy. And sweet.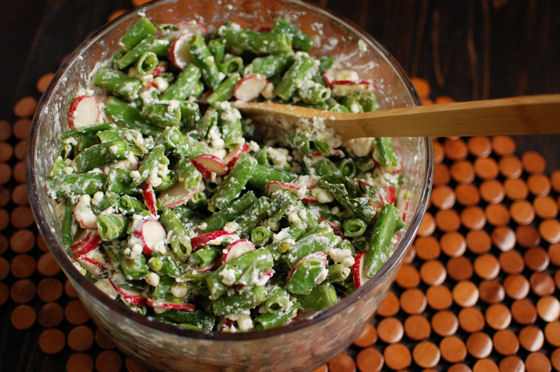 So it's no surprise that this salad caught my eye. I whipped up a double batch for a big party we were having. I mixed up the salad and the dressing separately a day in advance and then tossed it all together a couple hours before our guests started to arrive.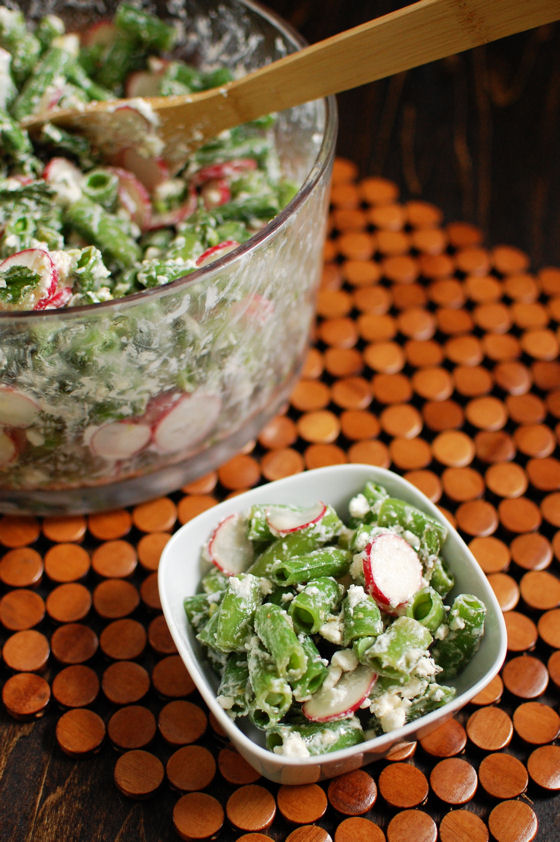 I love using radishes in a salad like this. They give a great spiciness that you can't get from any other ingredient out there. One thing I'd do differently next time is cut back on the goat cheese. When it all got mixed together, the dressing caused the goat cheese to melt some and just coat the peas. I'd prefer it if the peas could shine more on their own without being coated in goat cheese. Don't get me wrong, I love goat cheese, it was just too much in this case.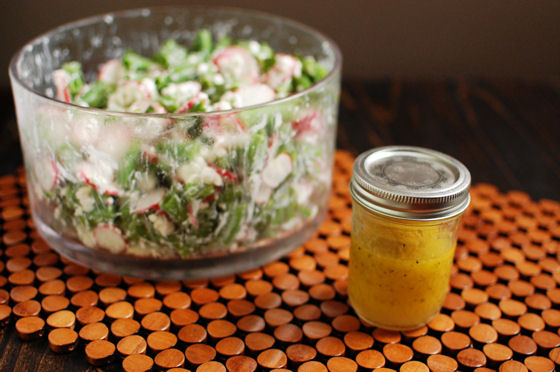 If you're looking for a great salad to take to a cookout this summer, look no further. You can even do like I did and make it in advance. I would just take the dressing in a separate jar and dress it once you arrive at your party.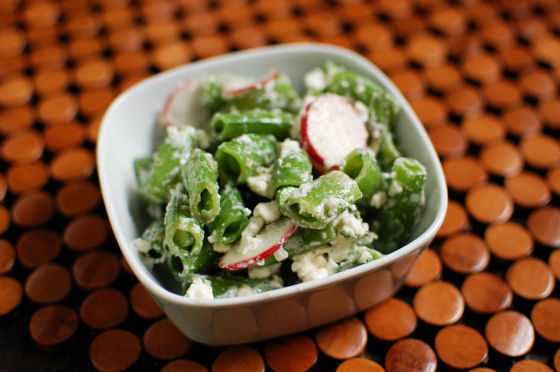 Two Years Ago: Raspberry Almond Coconut Breakfast Quinoa and Blueberry Crumb Bars
Three Years Ago: San Francisco Trip, Days 1-2 and San Francisco Trip, Days 3-4
Four Years Ago: Goat Cheese Potato Salad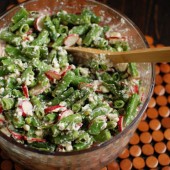 Sugar Snap Pea Salad
Ingredients:
1 1/2 pounds sugar snap peas, trimmed, stringed, cut in half on diagonal
Kosher salt
3 Tbsp extra-virgin olive oil
1 Tbsp fresh lemon juice
1 tsp white wine vinegar
1/2 tsp lemon zest
1 bunch radishes (about 6 ounces), trimmed, thinly sliced
4 ounces crumbled goat cheese
Freshly ground black pepper
2 Tbsp coarsely chopped fresh mint
Directions:
Fill a large bowl with ice water; set aside. Cook peas in a large pot of boiling salted water until crisp-tender, about 2 minutes. Drain; transfer to bowl with ice water to cool. Drain peas; transfer to a kitchen towel-lined baking sheet to dry.
Whisk oil, lemon juice, vinegar, and lemon zest in a small bowl. Toss peas, radishes, and cheese in a large bowl.
Note - Can be made 1 day ahead. Cover dressing and salad separately and chill.
Add dressing to salad and toss to coat. Season salad with salt, pepper, and more lemon juice, if desired. Garnish with mint and sprinkle with sumac.
Leave a Comment