Spiral Cut Currywurst
I talked the other day about how much Hubby and I enjoyed currywurst while we were in Germany. Since I had some homemade curry ketchup in the fridge, the next logical step was to make that in to currywurst.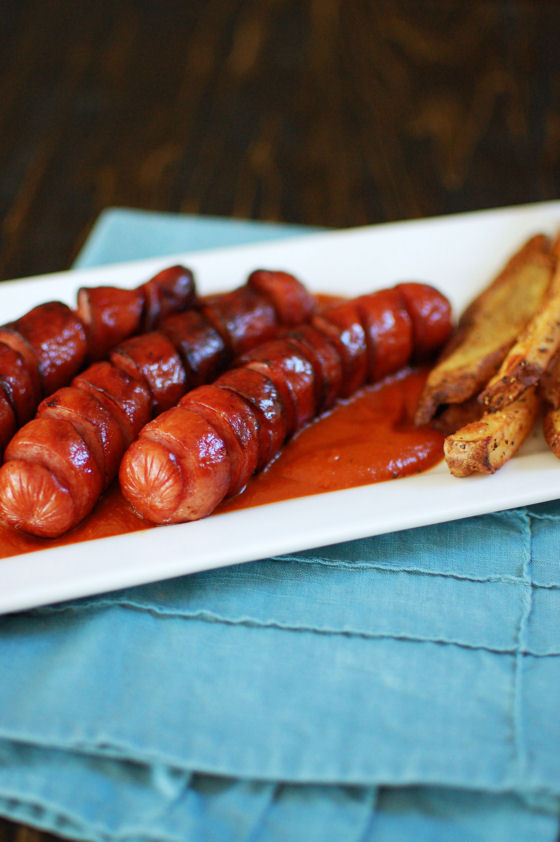 Now, we didn't have spiral cut currywurst in Germany, but once you spiral cut a processed meat link, you'll never go back. I saw this article when someone posted it on Facebook and was so intrigued, I had to try it.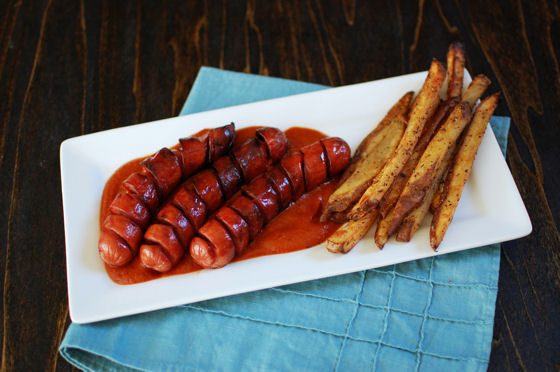 You see, I'm definitely a burnt hot dog girl. The more charred on the grill, the better. (I'm the same way with roasted marshmallows, by the way). So the thought of having an increased surface area to caramelize even more of the hot dog's exterior, the better! I was a little apprehensive that my mettwurst would fall apart as I spiral cut them, but they held together just fine. I've also done this with bratwurst with no issue.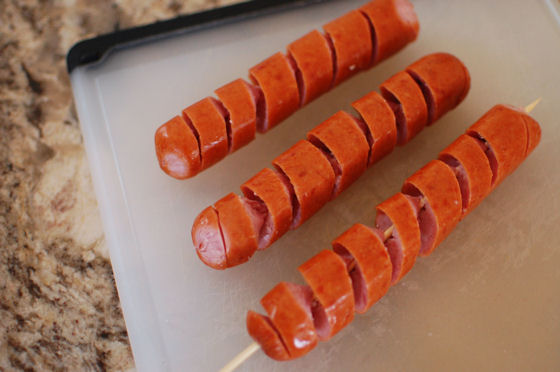 Not only do you get more caramelized deliciousness from spiral cutting, you also get more nooks and crannies for your condiments to stick to. And, if you're using a bun, spiral cut dogs are longer than those without spiral cutting, so they fit the bun better.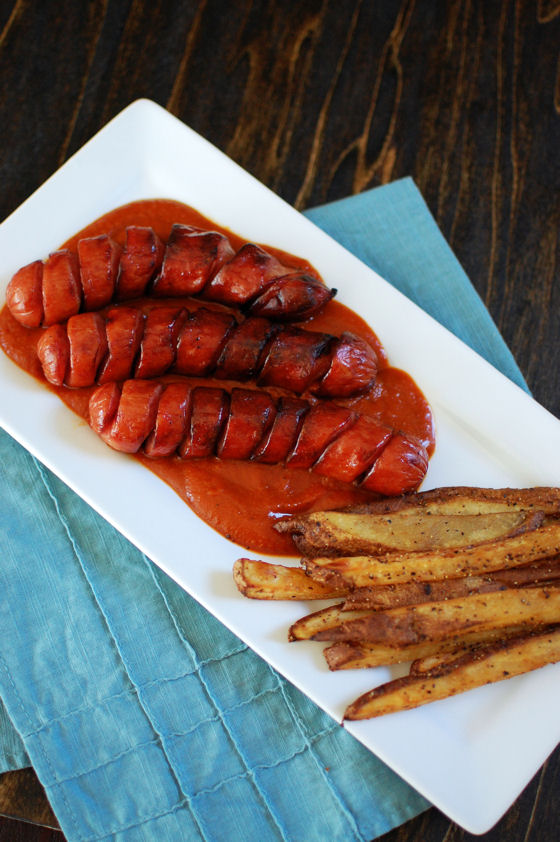 So to recreate our currywurst meal from Germany, I simply spiral cut some mettwurst, grilled them up, and served them over a generous smear of curry ketchup. I served them with some crispy baked french fries. Next to a great beer, it was *almost* like we were back in Germany…
One Year Ago: My Favorite Strawberry Recipes and Edamame Avocado Salad
Two Years Ago: Lemon Pound Cake with Strawberries and Neapolitan Ice Cream Cupcakes
Three Years Ago: Chickpea and Roasted Red Pepper Salad and Dark Chocolate Frosting
Four Years Ago: 40 Clove Garlic Chicken in Crockpot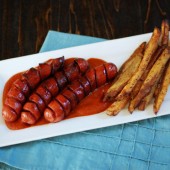 Spiral Cut Currywurst
Spiral cutting hot dogs is a great way to maximize the caramelized bits of the meat!
Ingredients:
2-3 mettwurst (or bratwurst, or kielbasa)
curry ketchup (I used homemade)
Directions:
Optional: Spiral cut your mettwurst by piercing with a wooden skewer lengthwise through the center. Place mettwurst on a cutting board. Hold your knife at a slight angle and cut all the way down to the skewer as you roll the mettwurst away from you. Cut all the way to the edge and remove the skewer.
Preheat grill to high heat. Reduce to medium heat once it is hot.
Grill mettwurst to desired doneness, turning throughout cooking process.
To Serve
Spread curry kethcup onto plate. Top with grilled mettwurse.
Serve with french fries.
14 Responses to "Spiral Cut Currywurst"
Leave a Comment