Edamame Avocado Salad
It's finally time for our CSA to start up again! I cannot tell you guys how excited I am about it! Hubby and I really enjoyed the challenge of eating all that fresh produce in one week before the next box arrived. One of the vegetables that we got during the first few weeks and months of the CSA last year was radishes.
Growing up I never liked radishes. I remember my dad growing them in his garden and eating them raw with a little bit of salt. I tasted one once and didn't like it at all. When we got our first batch of radishes in our CSA, I was determined to find a way to enjoy them. It turns out I like radishes in things (like salads or sandwiches). They provide a great crunch and a bit of spice.
I increased the amount of radishes in this Edamame Avocado Salad and when I make it again, I'll increase it even more. I really enjoyed the difference in texture they provided in this amazing salad. I brought this to the first cookout of the year and everyone enjoyed it. I especially enjoyed that it came together in a matter of minutes.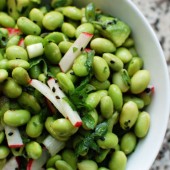 Edamame Avocado Salad
Edamame is a great source of protein and only takes a few minutes to cook up. This salad is perfect for a light summer lunch.
Ingredients:
1 16-ounce bag frozen shelled edamame, thawed
3 cloves garlic, minced
1 tsp grated fresh ginger
2 tsp honey
scant 1/4 cup rice wine vinegar
3 Tbsp olive oil
juice of 1 lime
pinch of salt and freshly ground pepper
1/2 cup sliced green onion
3 Tbsp chopped fresh parsley
10-12 radishes, diced
1 ripe avocado, diced
sesame seeds
Directions:
Bring about 4 cups of water to boil in a medium saucepan. Add edamame and boil for just a few minutes, until cooked through but still with a slight bite to them. Drain and allow to cool.
In the meantime, make the dressing.
In a small bowl, whisk together rice wine vinegar, oil, garlic, ginger, lime, and salt and pepper. Whisk together until completely incorporated. Set aside.
In a medium bowl, combine cooled edamame, green onion, parsley, radishes, and a sprinkling of sesame seeds. Toss together. Add dressing to desired amount.
3 Responses to "Goat cheese potato salad"
Leave a Comment