Mexican Shrimp Cobb Salad
Hubby absolutely adores cobb salad. He's been known to order it at restaurants over and over again. It's no wonder he loves it, with all the eggs, avocado, bacon, and chicken. This Mexican Shrimp Cobb Salad has the same vibe as your standard cobb salad, but it's kicked up with a few of my favorite flavors.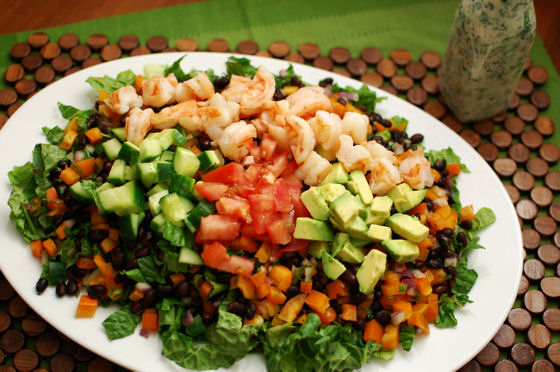 Cilantro, cumin, and avocado just scream Mexican flavors and they're very prevalent in this salad. Add in a crispy crunch from the bell peppers and the familiarity of black beans, and you can see why I was drawn to this recipe. I only wish I had made this when we had a grill so I could have grilled the shrimp instead of cooking them on the stovetop.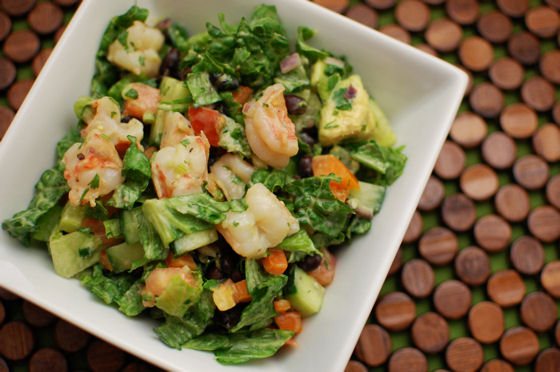 I made this when we were living in our apartment. Along with a grill, we didn't have a blender or food processor. So my dressing was a bit chunkier than it would be if I had one of those appliances to make it in. Instead, I just chopped the ingredients and whisked them together.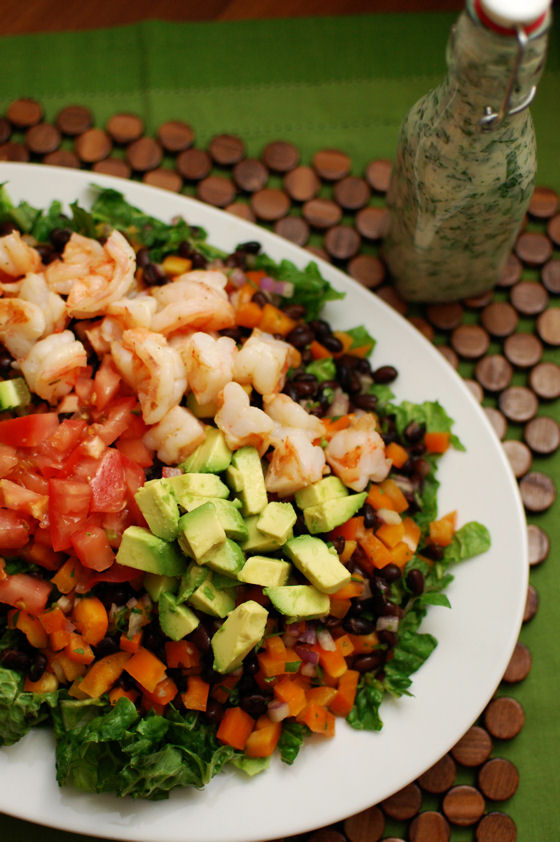 Hubby and I really enjoyed this salad. Actually, that's an understatement. We loved it. And it made a HUGE amount of salad. So we were eating leftovers for a few days. For the leftovers, I put the shrimp in one container, the dressing in another, and the rest of the fixins in a third. Then you could nuke the shrimp for a bit to heat it up and stir everything together without dealing with a wilted gross leftover salad.
One Year Ago: Homemade Yeast Doughnuts and My 1000th Post
Two Years Ago: Frito Cupcakes
Three Years Ago: Oreo Cupcakes and Mini Chocolate Chip Cookie Dough Brownie Cupcakes
Four Years Ago: Creme Brulee Cupcakes
Five Years Ago: More cheese I can eat!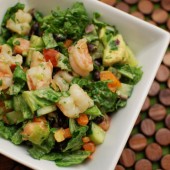 Mexican Shrimp Cobb Salad
Cobb salad gets kicked up with Mexican flavors just in time for Cinco de Mayo
Ingredients:
For the Dressing
1/4 cup lowfat buttermilk
2 Tbsp light mayonnaise
2 Tbsp fat free Greek yogurt
1 small jalapeno, seeds partially or entirely removed
1/4 cup of fresh cilantro
1 tomatillo, husks removed, chopped
2 cloves garlic
1 bunch of green onions, chopped
juice of 1/2 lime
1/4 tsp cumin
1/4 tsp fresh ground pepper
1/4 tsp salt
For the Salad
2 lb cooked large shrimp, peeled
chipotle chili powder to taste
1 Tbsp lime juice
salt, to taste
1 large bunch romaine lettuce, shredded
1 (15 oz.) can black beans, rinsed and drained
1 bell pepper (orange, red, or yellow)
1/2 medium red onion, chopped
2 Tbsp cilantro, chopped
juice of 1/2 lime
1 seedless cucumber, diced
2 cup diced tomatoes
1 ripe hass avocado, diced
Directions:
For the Dressing
Combine all ingredients in a food processor. Can be made and refrigerated up to three days in advance.
For the Shrimp
To prepare the shrimp, rinse and chop into large chunks. Toss with chipotle powder, lime juice, and salt.
For the Salad
In a small bowl, combine drained beans, red onion, cilantro, lime juice and salt to taste.
On a large platter (or in a clear trifle bowl), layer the salad ingredients in the following order: lettuce, black bean mixture, cucumber, tomatoes, avocado and shrimp.
2 Responses to "Gnocchi with Shrimp, Asparagus, and Pesto (7 WW pts)"
Leave a Comment