Chicken Gyros
After my other two posts this week, I'm sure this one comes as no surprise. What could possibly go well with pita bread and tzatziki sauce? Hm… Oh right, gyros!
Hubby and I LOVE to go to a local Turkish restaurant. It is literally 3 blocks from us and we didn't try it until we had lived here over two years. Wow it's amazing. We always get gyro meat because it's just so darn good.

These gyros aren't quite the same, but they sure are tasty in their own right. The marinade that the chicken cooks in is just great. We like to use it even when we don't have gyro fixings in the house. I highly recommend it.

I served these gyros with some fresh tomatoes, sliced red onions, tzatziki sauce and of course fresh pita bread.

I'm not sure if I've mentioned one of our favorite things about our new kitchen – our griddle top. It came with the stove and replaced the grate over the middle oblong burner. Not sure what you'd ever use that burner for except maybe a griddle pan? So we leave the griddle on there at all times. I love to use it to cook just about anything.
One Year Ago: Square Cake Balls
Two Years Ago: Monster Cookies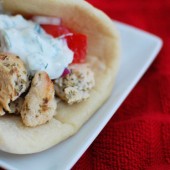 Chicken Gyros
Ingredients:
1.25 lbs. chicken pieces
4 cloves garlic, smashed
Juice of 1 lemon
2 tsp. red wine vinegar
2 Tbsp. extra virgin olive oil
2 heaping Tbsp. plain yogurt
1 Tbsp. dried oregano
salt and pepper
tzatziki
sliced tomatoes
sliced onions
4 pitas
Directions:
Whisk together the garlic, lemon juice, vinegar, oil, yogurt, and oregano in a bowl. Add the chicken and rub the marinade in. Cover and refrigerate for about an hour.
Preheat the broiler (or grill, or pan on the stove). Sprinkle the chicken with salt and pepper on both sides, and then broil until cooked through, about 5 minutes per side, depending what size/type chicken you are using. Allow the chicken to rest for a few minutes before slicing into strips.
Meanwhile, heat your pitas. I have a gas stove, so I just spray them with a little bit of oil and stick them right on the burner for a few seconds per side. Top the pita with the chicken, tzatziki, tomatoes, onions. Roll up and eat!
Leave a Comment