Frito Cupcakes
Yes, you read that correctly – Frito cupcakes. I get a lot of crazy looks when I say I'm making Frito cupcakes… but don't worry, they're not scary at all.
If you were at Cupcake Camp last night, you may have had the chance to try these little babies yourself. I hope you enjoyed them as much as I did! You all know I'm a huge fan of the salty-sweet, chewy-crunchy combos. These cupcakes have it all. I'll be doing a whole Cupcake Camp recap post next week so today I'm going to focus on these cupcakes.
I went with mini cupcakes, but these would be great full-sized as well. You can use your favorite chocolate cupcake recipe, but I definitely recommend this peanut butter frosting recipe. I first used it to make some chocolate peanut butter cupcakes and since then it's been my go-to peanut butter frosting recipe. It's so smooth and delicious.
Since I'm kind of crazy about having pretty smooth frosting, I only added the crushed up Fritos to the filling portion of the cupcake. If you didn't want to go through the extra step of filling the cupcakes, you could just slather the Frito/PB frosting on top of your cupcakes and that would also be delicious.
One Year Ago: Oreo Cupcakes and Mini Chocolate Chip Cookie Dough Brownie Cupcakes
Two Years Ago: Spinach Pasta with Chicken Sausage, Mushrooms, Goat Cheese, and Tomato and Creme Brulee Cupcakes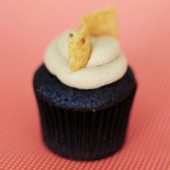 Frito Cupcakes
Ingredients:
For the Frito Cupcakes
1 batch mini chocolate cupcakes (recipe below)
1 batch peanut butter frosting (recipe below)
1 batch Frito filling (recipe below)
Fritos for garnish
For the Chocolate Cupcakes
1/4 cup + 2 Tbsp unsweetened Dutch-process cocoa powder
1/4 cup + 2 Tbsp hot water
1 1/2 cups all-purpose flour
1/2 tsp baking soda
1/2 tsp baking powder
1/2 teaspoons coarse salt
3/4 cups (1 1/2 sticks) unsalted butter
1 cup + 2 Tbsp sugar
2 large eggs, room temperature
1/2 Tbsp vanilla
1/2 cup sour cream, room temperature
For the Peanut Butter Frosting
1 cup powdered sugar
1 cup creamy peanut butter
5 Tbsp unsalted butter, at room temperature
1 tsp vanilla
1/4 tsp kosher salt
1/3 cup heavy cream
For the Frito Peanut Butter Filling
1 1/2 cups Frito Scoops
3/4 cup peanut butter frosting
3/4 tsp kosher salt
Directions:
To assemble Frito Cupcakes
Allow cupcakes to cool completely. Using the cone method, remove a cone off the top of the cupcakes. Discard the tops, or eat them, or freeze them to snack on later.
Fill the cupcake with the Frito filling.
Frost with peanut butter frosting and top with a Frito.
For the Chocolate Cupcakes
Preheat oven to 350 degrees. Line standard muffin tins with paper liners. Whisk together cocoa and hot water until smooth. In another bowl, whisk together flour, baking soda, baking powder, and salt.
Melt butter with sugar in a saucepan over medium-low heat, stirring to combine. Remove from heat, and pour into a mixing bowl. With an electric mixer on medium-low speed, beat until mixture is cooled, 4 to 5 minutes. Add eggs, one at a time, beating until each is incorporated, scraping down sides of bowl as needed. Add vanilla, then cocoa mixture, and beat until combined. Reduce speed to low. Add flour mixture in two batches, alternating with the sour cream, and beating until just combined after each.
Divide batter into lined cups, filling each three- quarters full. Bake, about 10-12 minutes. Cupcakes can be stored overnight at room temperature, or frozen up to 2 months, in airtight containers.
For the Peanut Butter Frosting
Place the confectioners' sugar, peanut butter, butter, vanilla, and salt in the bowl of an electric mixer fitted with a paddle attachment. Mix on medium-low speed until creamy, scraping down the bowl with a rubber spatula as you work.
Add the cream and beat on high speed until the mixture is light and smooth.
For the Frito Peanut Butter Filling
Put Frito scoops into a plastic bag and crush with your hands or by using a can of food.
In a small bowl, stir together frosting, crushed Fritos, and salt.

Don't forget about Bloggers Bake for Hope – Bloggers Bake. You Bid. 100% of proceeds go to Komen for a Cure. Register to bake by April 30th, come back for bidding May 4-6.

One Response to "Amped Up Rice Krispies Treats"
Leave a Comment