Corned Beef
When I saw Megan post this Corned Beef on St Patrick's Day last year, I knew I had to make it. She mentioned that she makes corned beef every year for the holiday and enjoyed the recipe. I had never made it before so I decided to give it a shot that very day. I think I can count the number of times I've made a recipe the day I first saw it on one hand.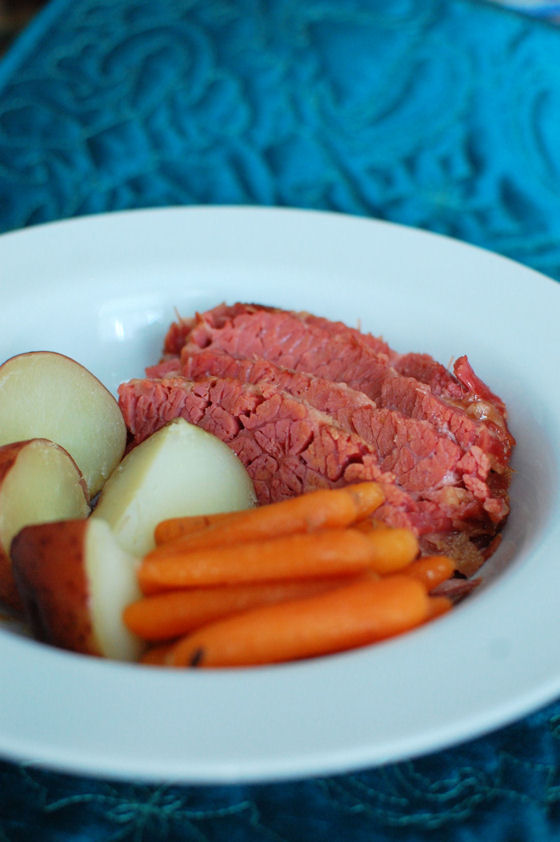 As Megan said, this recipe is easy to throw together and the meat and vegetables come out amazingly flavorful. Since this was my first time making corned beef, I can't comment on how it compares to other recipes, but I can say that I'm using this recipe again this year to make corned beef on St Patrick's Day. I served this with some braised cabbage.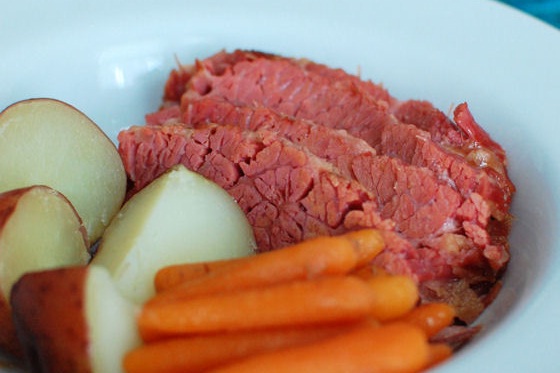 One Year Ago: Some St Patty's Day Treats
Two Years Ago: Cranberry Apple Pie and Hasselback Potatoes with Spinach Pesto
Three Years Ago: Double Peanut Butter Cookies
Five Years Ago: Vegan Vanilla Raspberry Cupcakes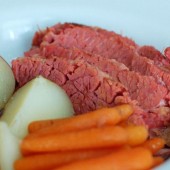 Corned Beef
Easy corned beef recipe perfect for serving on St Patrick's Day
Ingredients:
4-5 pound corned beef brisket roast, rinsed, fat trimmed to 1/4 inch thick
4 cups low-sodium chicken broth
4 cups water
12 carrots, peeled (3 chopped, 9 halved crosswise)
2 celery ribs, chopped
1 onion, peeled and quartered
3 bay leaves
1 Tbsp whole black peppercorns
1 Tbsp minced fresh thyme
1 tsp whole allspice
3 Tbsp unsalted butter
1 1/2 pounds small red potatoes
Freshly ground pepper
Directions:
Adjust oven rack to middle position and heat oven to 300 degrees. Combine beef, broth, water, chopped carrots, celery, onion, bay leaves, peppercorns, thyme, and allspice in Dutch oven. Cover and bake until fork slips easily in and out of meat, 4 1/2 to 5 hours.
Transfer meat to 9x13 inch baking dish. Strain cooking liquid through fine-mesh strainer into large bowl, discard solids, and skim fat from liquid. Pour 1 cup cooking liquid over meat. Cover dish tightly with aluminum foil and let rest for 30 minutes.
Meanwhile, return remaining cooking liquid to Dutch oven, add butter, and bring to simmer over medium-high heat. Add potatoes and simmer until they begin to soften, about 10 minutes. Add carrot halves, cover, and cook until tender, 10 to 15 minutes. Transfer vegetables to serving platter and season with pepper to taste.
Transfer beef to carving board and slice against grain into 1/4-inch-thick slices. Serve with vegetables.
16 Responses to "Strawberry Champagne Layer Cake"
Leave a Comment