Mini Chocolate Chip Cookie Dough Brownie Cupcakes
This title could possibly contain three of my favorite desserts of all time – brownies, cupcakes, and cookie dough. Do you remember those chocolate chip cookie dough brownies I made last year? If you click through to my blog often, you will recognize them because they've been in my header for quite some time now. They're awesome. Seriously, one of the best things I've ever made.

When I was contemplating what to take to CupcakeCamp Boston, I couldn't make up my mind, so I decided to make two varieties. The Oreo Cupcakes and these guys. I basically just made the cookie dough brownies into mini cupcakes. I used mini-chocolate chips in the batter and frosting this time since they were mini cupcakes.

The frosting wasn't very easy to pipe since there were chocolate chips in it, but that's ok. These taste just as awesome in mini cupcake form as they do in brownie form. I did think the coffee flavor was a bit strong this time around and took away from the cookie dough, so next time I'd leave it out (recipe below reflects that change). You might have some frosting left, but that's ok, it's safe to eat cookie dough!

One Year Ago: Creme Brulee Cupcakes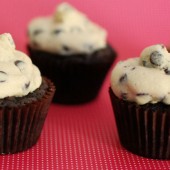 Chocolate Chip Cookie Dough Brownie Mini Cupcakes
Ingredients:
For the Cupcakes
1 cup (2 sticks) unsalted butter
2 1/4 cups sugar
4 large eggs
1 1/4 cups cocoa
1 tsp salt
1 tsp baking powder
1 Tbsp vanilla extract
1 1/2 cups all-purpose flour
2 cups mini chocolate chips
For the Cookie Dough Frosting
2 sticks butter, softened
1 cup brown sugar
1/2 cup sugar
1/2 cup milk
2 cups flour
1 1/3 cups mini chocolate chips
Directions:
For the Cupcakes
Preheat the oven to 350°F. Place mini cupcake liners in pan.
In a saucepan set over low heat, melt the butter, then add the sugar and stir to combine. Return the mixture to the heat briefly, just until it's hot, but not bubbling; it'll become shiny looking as you stir it. Heating this mixture a second time will dissolve more of the sugar, which will yield a shiny top crust on your brownies.
Transfer the sugar mixture to a medium-sized mixing bowl, if you've heated it in a saucepan. Stir in the cocoa, salt, baking powder, and vanilla.
Whisk in the eggs, stirring until smooth.
Add the flour and chips, again stirring until smooth.
Spoon the batter into mini cupcake pan.
Bake the brownies for about 8-10 minutes, until a cake tester inserted into the center comes out clean, or with just a few moist crumbs clinging to it. The brownies should feel set on the edges, and the center should look very moist, but not uncooked.
Remove them from the oven and cool completely on a rack.
For cookie dough frosting
Cream the butter and sugars until light and fluffy. Beat in milk. With mixer on low, add flour and mix until well combined. Stir in mini chocolate chips.
Assemble the cookies
Pipe the cookie dough frsoting onto the cooled mini cupcakes. Chill the brownies until the cookie dough is firm. Serve at room temperature.
5 Responses to "World Peace Cookies"
Leave a Comment