Pumpkin Cranberry Pecan Upside Down Cake
This week is one of my favorite weeks of the year. Thanksgiving is all about the food. And football. And family. And friends. It doesn't get much better than that.
This cake can make Thanksgiving even better for you. I made this the other night and I had to literally put it away so I wouldn't eat the whole thing. It's absolutely amazing. It combines all my favorite Thanksgiving flavors with the pumpkin cake topped with a caramel/pecan/cranberry topping. And it is one of the easiest desserts to make ever. If you need a dessert for Thanksgiving, definitely give this a shot.
We loved it so much I will be making it again. Twice in one week. I never repeat recipes, let alone in the same week. Seriously, it's that good.
One Year Ago: Thanksgiving Two-Fer Bars and NY Times Chocolate Chip Cookies
Two Years Ago: Oreo Brownies and Peanut Butter Sandwich Cookies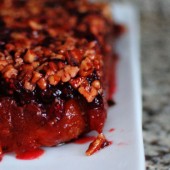 Pumpkin Cranberry Pecan Upside Down Cake
Ingredients:
8 ounces (2 sticks or 16 Tbsp) unsalted butter
1 cup packed brown sugar
2 cups cranberries
4 ounces (1 cup) coarsely chopped pecans, toasted
2 eggs
1 cup pumpkin puree
6 Tbsp vegetable oil
1 1/2 cups flour
1 cup sugar
1 1/2 tsp baking powder
1 tsp cinnamon
1/4 tsp salt
Directions:
Preheat the oven to 350 degrees.
Line the bottom of a 9-inch square pan with parchment paper.
Melt the butter in a small saucepot over medium heat. Add the brown sugar and whisk until smooth.
Pour the brown sugar mixture into the bottom of the cake pan.
In a medium bowl combine the cranberries and pecans. Place them in the pan over the brown sugar mixture.
In a large bowl, whisk together the eggs, pumpkin puree and oil.
Sift together the flour, sugar, baking powder, cinnamon and salt. Stir the flour mixture into the pumpkin mixture. Carefully spread the batter over the cranberry pecan topping.
Bake until a skewer inserted in the middle comes out clean, 35-40 minutes.
Cool the cake for 10 minutes on a wire rack. Place a large plate or platter on top of the cake. Invert the cake and plate together. Remove the pan. Carefully peel off the parchment paper.
I'm using this cake as my monthly What's Baking challenge. Be sure to check out Catherine's blog for the roundup later this month.
5 Responses to "Cookie Carnival – Blueberry Lemon Cookies"
Leave a Comment