Thanksgiving Two-Fer Bars
I changed my mind late last night about baking for Thanksgiving. I wasn't going to do it since Hubby's mother is already baking multiple pies and other goodies, but then something sparked my memory about these bars. I remembered seeing them last year and loving that Caitlin had made the TWD recipe into bars instead of a pie.
I'm not really a big pie person myself. Don't get me wrong, I love eating pies, but I'm not a big fan of baking pies. I think it's for the same reason I don't like making elaborate cakes. I like to be able to taste test my baked goods prior to serving them to anyone else. That's why I almost exclusively bake cookies, cupcakes, and bars. Of course, I had to taste test these bars while I was cutting them. They taste like Thanksgiving. I enjoyed the variety of textures from the crust and two pie filling layers.
These bars do take a bit of time to assemble because of the various steps. But I'm ok with that. I put them together last night while working on laundry and cleaning up the house. It was casual, just the way I like my baking. Who wants to be stressed out while baking!
Now I'm sure most everyone out there has already planned or even baked everything they're going to for Thanksgiving since it is tomorrow and all, but if you're still searching for that perfect Thanksgiving treat, definitely consider making these.
Since I used a 9×13 pan for the recipe, I doubled the pie filling recipes. The recipe shown below reflects the changes that I made, so if you make these in an 8×8 pan, you will want to halve the recipe below. I had a hard time with the baking time. I started checking them at 30 minutes and they were no where near done. I ended up baking at 300 for about 65 minutes because prior to that the pecan pie topping was not set. I let them cool over night on a cooling rack prior to cutting them.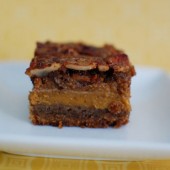 Thanksgiving Two-Fer Bars
Ingredients:
For the Crust Layer
1 1/2 cups all-purpose flour
1/2 cup packed brown sugar
3/4 cup + 2 Tbsp pecans, ground - I ground mine in a food processor
2/3 cup butter, at room temperature
For the Pumpkin Filling
2 cup canned unsweetened pumpkin puree
1 1⁄3 cup heavy cream
1 cup (packed) light brown sugar - I used 1/2 light and 1/2 dark
2 large egg
2 large egg yolk - I used 1 egg instead of 2 yolks
4 tsp. dark rum, optional - I omitted
1 tsp. pure vanilla extract
1 tsp. ground cinnamon
1⁄2 tsp. ground ginger
1⁄2 tsp. salt
For the Pecan Pie Filling
1 cup light or dark corn syrup - I used light
1⁄2 cup packed light brown sugar
4 tbsp. unsalted butter, melted
2 egg
2 egg yolk - I used 1 egg instead of 2 yolks
1 tsp. pure vanilla extract
1⁄2 tsp. ground cinnamon
1⁄4 tsp. salt
3 cups (about 14 oz.) pecan halves or pieces
Directions:
For the crust
Preheat the oven to 350ºFC.
Using a wooden spoon or the paddle attachment of your mixer (I used a pastry blender), mix all of the crust ingredients together until coarse crumbs are formed. In a 9 x 13-inch baking dish, press down the crust.
Bake at 350ºF for about 15 to 20 minutes, or until the edges start to brown. The crust will rise slightly after baking. Let the crust cool completely at room temperature.
For the pumpkin filling
Pulse all ingredients together in a food processor (for a double batch, my ingredients didn't all fit in my food processor bowl, so I pulsed everything except the cream, them poured it into a bowl and whisked the cream in). Leave filling in bowl.
For the pecan filling: In a bowl, whisk together all ingredients except pecans until smooth.
To assemble
Preheat oven to 450. Give the pumpkin filling one last quick pulse, then remove bowl, rap it on counter to debubble batter, and pour filling into crust. Top pumpkin filling evenly with pecans, then pour over pecan filling. Poke down any pecans that float to the top and aren't covered with filling. Bake bars for 15 minutes.
Reduce oven temperature to 300° and bake for another 55-65 minutes, or until it is evenly puffed and a slender knife inserted into the center comes out clean. Transfer bars to a cooling rack and let it stand until it is just warm or until it reaches room temperature.
5 Responses to "Toffee Pecan Cookies"
Leave a Comment