Pumpkin, Dulce de Leche, Oat Bars
Oh pumpkin. If you're like me, I am sure that you're seeing pumpkin recipes EVERYWHERE these days. I pretty much love it. My must-bake pumpkin list is quite large and even though I bake with pumpkin throughout the year, I still can't ever seem to put a dent in that list.
When I saw this recipe, it jumped straight to the top of the list. I would never think to pair pumpkin with dulce de leche, but it works. I guess I shouldn't be surprised since both of those ingredients are pretty awesome on their own.
As I mentioned, Hubby has been traveling for work a LOT. As in, he's gone more than he's in town. I hope he isn't too upset that I made these while he was out of town. He LOVES all things made with caramel of any sort. (It'll be our little secret).
One Year Ago: Pink Vegan Chocolate Chip Cookies
Two Years Ago: Smores Cupcakes and Homemade Graham Crackers
Four Years Ago: Pizza Night
Five Years Ago: White Chocolate and Blueberry Cupcakes and Sweet Potato Home Fries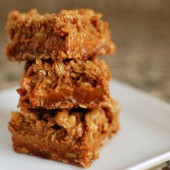 Pumpkin, Dulce de Leche, Oat Bars
Pumpkin, dulce de leche, and oats make for some delicious bars
Ingredients:
For the Crust
3/4 cup flour
1 cup oats
3/4 cup brown sugar
1/2 tsp baking soda
1 tsp cinnamon
1/2 cup butter, melted
For the Dulce De Leche Layer
1 13.4 oz can dulce de leche
2 Tbsp whole milk
For the Pumpkin Filling Layer
1 cup pumpkin puree
1 egg, slightly beaten
1 Tbsp packed brown sugar
1/4 cup whole milk
1 1/2 tsp cinnamon
1/2 tsp nutmeg
1/4 tsp allspice
3/4 tsp ginger
pinch cloves
Directions:
For the Crust
Preheat oven to 350 degrees and butter an 8×8 pan.
In a large bowl whisk together the flour, oats, brown sugar, baking soda, and cinnamon. Add the melted butter and combine until crumbly. Pour half of the mixture in the bottom of the baking dish and set the other half aside. Press the mixture down using the back of a fork (or your hands) to ensure the bottom of the dish is covered evenly.
For the Dulce De Leche Layer
If you are using homemade dulce de leche you can skip this step and just spread it onto the crust. If you are using a can, combine the dulce de leche with the 2 tablespoons of milk in a medium bowl and stir well. Once combined, gently spread over crust.
For the Pumpkin Filling Layer
Lastly, in a large bowl add the pumpkin, egg, milk, brown sugar, cinnamon, nutmeg, allspice, ginger, and cloves.
Whisk together until combined and pour over the dulce de leche.
Bake for 20 minutes, remove from oven, top with the remaining oat mixture and return to the oven for another 20 minutes.
Remove from oven, cool completely. Refrigerate until set.
4 Responses to "Butternut Squash soup in the Crockpot"
Leave a Comment