Pink Vegan Chocolate Chip Cookies
I hope you guys are as excited about all the pink food I have planned for you this month as I am. There are only a few foods found in nature that produce pink result. As we saw yesterday, beets are one of them. This Pink Vegan Chocolate Chip Cookie recipe uses beets again to provide a beautiful pink tint. The roasted beets also gave a certain earthy-sweetness to these cookies that we both really enjoyed.
I made a few changes to the original recipe so that I could use some roasted beets that I had on hand. To make these cookies vegan, be sure to use vegan chocolate chips in them. I used regular mini chocolate chips because that's what I had on hand.
Like most cookies, I really enjoyed these straight out of the freezer.
One Year Ago: Smores Cupcakes and Homemade Graham Crackers
Three Years Ago: M&M Cookies
Four Years Ago: White Chocolate and Blueberry Cupcakes and Sweet Potato Home Fries
Don't forget about my Power of Pink Challenge – make something PINK by the end of the month to raise Breast Cancer Awareness!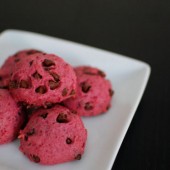 Pink Vegan Chocolate Chip Cookies
Ingredients:
3/4 cup flour
1/2 tsp baking powder
1/4 tsp salt
1/3 cup shredded raw beets
1 Tbsp canola oil
1/2 tsp vanilla
2 1/2 Tbsp water
1/4 cup sugar
1/4 cup mini chocolate chips
Directions:
Combine all dry ingredients and stir.
In a food processor, pulse the shredded beets for a few second 5 times. Add the oil, vanilla, and water and process again. Scrape down the sides of the bowl. Add the sugar to the food processor and pulse until completely combined. The mixture will be very liquidy.
Make a well in the center of the dry ingredients and the beet mixture. Mix to combine.
Stir in chocolate chips.
Drop by tablespoonfuls onto greased cookie sheet. Bake 10-12 min at 350.
Leave a Comment