Pumpkin Cream Cheese Muffins
Pumpkin, spices and sweetened cream cheese combine in these perfect fall muffins.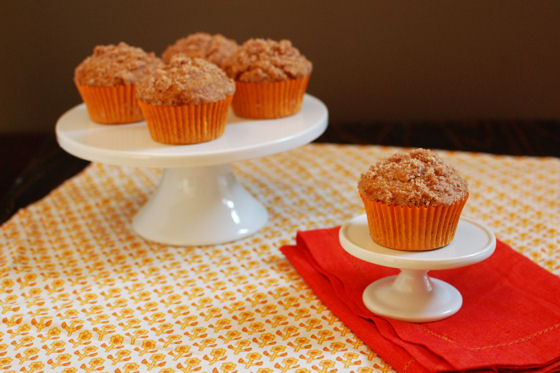 Can you guys believe it's fall already!?! Like I said before, I'm actually looking forward to fall this year. For most people, the changing of the leaves indicates that it's time for pumpkin EVERYTHING. From coffee to candles and everything in between, we all go crazy for pumpkin this time of year.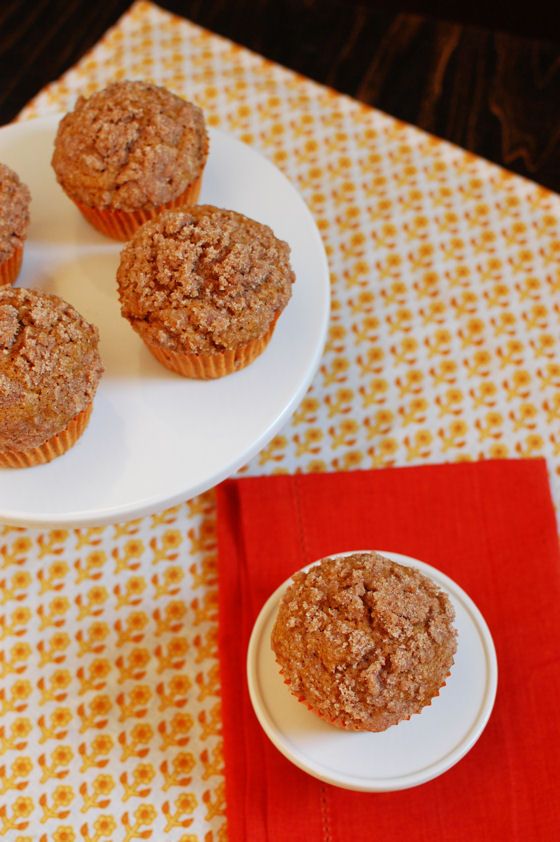 I personally, enjoy my love of pumpkin baked goods year-round. I made the muffins to share at a work breakfast potluck. We were raising money for the United Way and had a recommended $5 donation that was collected at the door. I was impressed with the spread! My co-workers are pretty talented in the kitchen.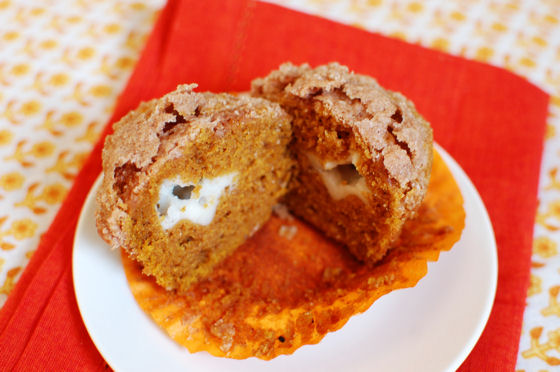 It's no surprise that these muffins were a hit. They've got all the warm fall flavors expected in a pumpkin muffin, along with a fun surprise of the cream cheese filling. Since making these the first time, I've made them a couple more times, with and without the topping. They're tasty both ways, just a bit more sweet and indulgent with the topping included.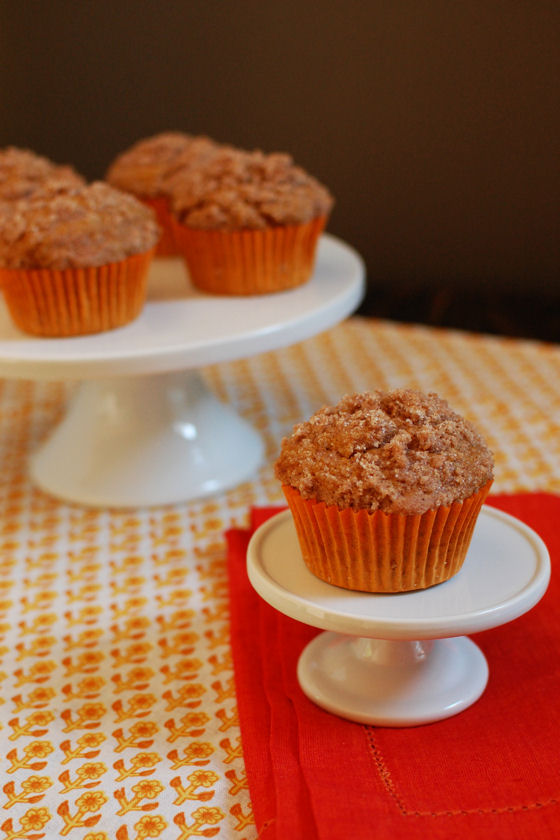 If you are looking for yet ANOTHER pumpkin recipe to try out this fall, give this one a shot.
Two Years Ago: Pumpkin Vanilla Cocktail with Spiced Sugar Rim and Apple 7-Layer Magic Bars
Three Years Ago: Roasted Beet and Goat Cheese Risotto and Neapolitan Cheesecake Cake
Four Years Ago: Smores Cupcakes
Six Years Ago: M&M Cookies


Don't forget to enter in my Power of Pink Challenge for your chance to win a $100 donation to the charity of your choice.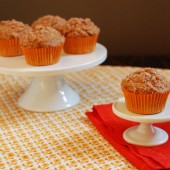 Pumpkin Cream Cheese Muffins
Pumpkin, spices and sweetened cream cheese combine in these perfect fall muffins.
Ingredients:
For the cream cheese filling
8 oz cream cheese, softened
1 cup powerdered sugar
For the muffins
3 cups flour
1 tsp ground cinnamon
1 tsp ground nutmeg
1 tsp ground cloves
1 Tbsp plus 1 tsp pumpkin pie spice
1 tsp salt
1 tsp baking soda
4 eggs
2 cups sugar
1 can pumpkin puree (~2 cups)
1 1/4 cups vegetable oil
For the topping
1/2 cup sugar
5 Tbsp flour
1 1/2 tsp ground cinnamon
4 Tbsp cold unsalted butter, cut into pieces
Directions:
For the filling
Combine the cream cheese and powdered sugar in a bowl and mix until well blended and smooth. Transfer to a piece of plastic wrap and shape into a log about 1 1/2 inches in diameter. Smooth the plastic wrap tightly around the log and wrap with a piece of foil. Chill in freezer until firm, ~2 hours.
For the muffins
Preheat the oven to 350 degF. Line muffin pans with muffin liners.
In a medium bowl, combine the flour, cinnamon, nutmeg, cloves, pumpkin pie spice, salt and baking soda. Whisk dry ingredients to blend.
In the bowl of a mixer, combine the eggs, sugar, pumpkin and oil. Mix on med-low until blended. Put mixer on low and add dry ingredients. Mix until just incorporated.
For the topping
Combine the sugar, flour and cinnamon in a small bowl. Whisk to blend. Add the butter and cut in to the dry ingredients with a pastry cutter or two forks until crumbly and coarse. Chill in fridge until ready to use.
To assemble the muffins
Remove the cream cheese filling log from the freezer and slice in to 24 pieces.
Fill each muffin liner with a small amount of batter. Add a slice of cream cheese into the muffin batter. Divide the rest of the batter between the muffins, covering the cream cheese filling.
Sprinkle some of the topping over each muffin.
Bake for 20-25 minutes. Cool on a wire rack before serving.
4 Responses to "Butternut Squash soup in the Crockpot"
Leave a Comment