Roasted Banana Soft Serve
I would rename this stuff Banana Bread Batter Soft Serve. Because that's exactly what it tastes like. Its pretty amazing and so good for you!
If you read any healthy food blogs, I'm sure you've seen this recipe. I love that this version roasts the bananas prior to freezing then whizzing them in the food processor. I always seem to have over ripe bananas in my freezer, so I'm definitely going to be making this again.
I topped mine with some chopped pecans to give it some texture, which I enjoyed. Of course, I also enjoyed it without the pecans. I love how dark it got because of the caramelized bananas. It almost looks like peanut butter!
One Year Ago: Lemon Raspberry Layer Cake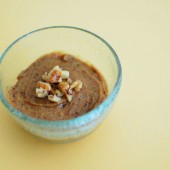 Roasted Banana Soft Serve
Ingredients:
3 very ripe large bananas
Directions:
Preheat oven to 400 degrees F.
Line a baking sheet with parchment paper or aluminum foil.
Peel the bananas and cut into 1-inch pieces. Arrange banana pieces on the prepared baking sheet and roast for 30 minutes.
Remove baking sheet from the oven and allow the roasted bananas to cool completely.
Place cooled roasted banana pieces on a parchment paper-lined plate and freeze until solid. Transfer frozen roasted bananas to a freezer-safe zip-top plastic bag for future use OR proceed to the next step.
When ready to transform the frozen roasted bananas into soft serve, remove the bananas from the freezer and place in a food processor or high-speed blender. Process or blend until the roasted frozen bananas take on a creamy & smooth consistency.
Eat immediately!

Don't forget about Bloggers Bake for Hope – Bloggers Bake. You Bid. 100% of proceeds go to Komen for a Cure. Register to bake by April 30th, come back for bidding May 4-6.

One Response to "Cranberry applesauce"
Leave a Comment