Colorful Shrimp and Quinoa Salad
I've mentioned this before, but I'll say it again. Hubby spoils me. He packs my lunch every morning before work while I'm getting ready. It works out well since we ride to work together. So every morning, he packs me all sorts of healthy snacks to keep me full throughout the day.
I love eating salads for lunch. I usually go with this Massaged Kale Salad with Pear and Pumpkin Seeds. But sometimes I like to mix things up. I was browsing foodgawker and this recipe caught my eye. Lucky for me, we had all of the ingredients on hand!
This Colorful Shrimp and Quinoa Salad kept well in the fridge and did a good job of keeping me full in to the afternoon. I loved the punch of sweetness provided by the pomegranate arils.
One Year Ago: Short Rib Ragu
Three Years Ago: Chicken Sausage, Spinach, Tomato and Goat Cheese Quiche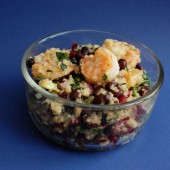 Colorful Shrimp and Quinoa Salad
Shrimp, black beans, and quinoa mixed up to make a great healthy salad
Ingredients:
For the Salad
1 lb steamed shrimp
1/2 cup dry quinoa
1/3 cup red onion, chopped
1 orange, peeled and segments chopped
1 avocado, chopped
1 cup canned black beans, rinsed and drained
1 cup pomegranate arils (about 1 pomegranate worth)
1/2 cup cilantro, chopped
salt & pepper
For the Dressing
2 Tbsp freshly squeezed lemon juice
2 garlic cloves, microplaned or finely minced
dash of sugar
salt & pepper
3 Tbsp extra virgin olive oil
Directions:
For the Salad
Cook quinoa according to package directions. Set aside to cool.
Combine cooled quinoa with shrimp, red onion, orange segments, avocado, beans, pomegranate arils, cilantro, salt and pepper.
For the Dressing
Add lemon juice, garlic, sweetener, salt and pepper into a small bowl and whisk in oil.
Pour dressing over the salad and stir to combine. Serve cold or at room temperature.
7 Responses to "Corned Beef"
Leave a Comment