Roasted Garlic Hummus
Now that you all know how simple it is to roast garlic at home, you can make all sorts of delicious treats with it. First up is some Roasted Garlic Hummus. I always like to have some fresh vegetables at any sort of party, including parties for the upcoming Superbowl. I like to give people the option to have something lighter and healthier on their plate.
Once you have some roasted garlic that has been cooled to room temperature, whipping up the hummus only takes a few minutes. Serve it with some fresh veggies and pita chips.
One Year Ago: Peppermint Patty Cupcakes
Two Years Ago: Spinach and Artichoke Dip
Three Years Ago: Pork Chops with Blue Cheese Gravy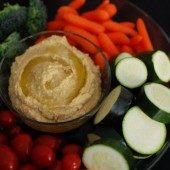 Roasted Garlic Hummus
A great way to use roasted garlic
Ingredients:
1 (14 oz) can or 2 cups cooked chickpeas
3 Tbsp tahini
4 Tbsp olive oil
1/4 cup warm water
2 heads roasted garlic
1 lemon
1/2 tsp sea salt or Kosher salt
1/2 tsp cumin
1/8 tsp cayenne pepper
Directions:
Using your fingers, squeeze the soft, roasted garlic out of each clove into food processor. Rinse and drain chickpeas. Add them, and all other ingredients except olive oil to the food processor and blend until completely smooth.
Scrape ingredients off sides of food processor to make sure it blends evenly. Finally add a tablespoon of olive oil at a time until you have reached the desired consistency. Add it very slowly, allowing the mixture to combine fully before adding more liquid.
Drizzle with olive oil prior to serving with fresh vegetables and pita chips.
13 Responses to "Pomegranate Cranberry Quinoa Salad"
Leave a Comment