Black Bean Burgers
I wanted to be sure to include a vegetarian option during this week of burgers. Hubby and I eat vegetarian about once a week. It's not necessarily something we plan on, it just happens with all the various recipes we are trying out. I set out to find a tasty looking black bean burger recipe and this one was in my Google Reader with a star next to it.
Hubby actually made these burgers the other night when I was doing some chores around the house. I like that the recipe makes 8 patties so we have leftovers (I popped 4 of them in the freezer for a quick meal at a later date). You could definitely cut the recipe in half if you only want to make 4 patties though.
I topped mine with mustard, lettuce, and tomato. It was delicious this way. The burgers had a great depth of flavor. If you like spicey food, be sure to check out Katie's original recipe. After omitting the spiciness, we also subbed grated zucchini for the green pepper because that's what we had on hand. The zucchini helped to keep these burgers moist.
One Year Ago: Cinnamon Roll Cupcakes with Cream Cheese Frosting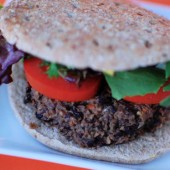 Black Bean Burgers
Ingredients:
2 (14oz) cans low-sodium black beans, drained and rinsed well
1/2 medium yellow onion
1 cup shredded zucchini, squeezed dry
1 clove garlic
1 medium carrot
1 tsp cumin
1 tsp smoked paprika
pinch salt and pepper
1 egg
1/4 cup herbed bread crumbs
Directions:
Preheat oven to 350 degrees and line baking sheet with parchment.
In bowl of food processor, add onion, green pepper, carrot and garlic. Pulse to combine well and mince ingredients.
Remove from food processor bowl and place in fine mesh strainer to strain off excess liquid.
In medium to large bowl, place rinsed and dried black beans. Smash into paste with fork. Add remaining ingredients and stir to combine well.
Using hands, place bun-sized patties onto baking sheet.
Place into oven and bake for 25-30 minutes, or until edges have crisped up and burgers are cooked through.
3 Responses to "Salmon, goat cheese and spinach wrapped in Phyllo dough"
Leave a Comment